Introduction to Guyana News Media
Guyana is the only South American country filled with an English-speaking population and thus, the media in this former British colony also operates majorly in English. Capital city Georgetown is the hub of Guyana's major newspapers. The papers reach the other parts of the country via either airplanes or boats.
Guyana also have a strong network of regional newspapers, but their circulation as well as coverage of the South American country is small. Journalists with experience of regional newspapers constantly look to make a move into the capital city for a broader scope and to reach a larger audience.
History
Royal Essequibo and Demerary Gazette was Guyana's first recorded newspaper that rolled out its first issue in 1796. The newspaper was owned by the government but carried more advertisements than the actual news.
Prospecting the profit in the business, Guyana's private investors made their entry with many newspapers. Creole was one popular among them. These privately owned newspaper had larger circulation but failed to survive for even months due to either financial crunch or lack of professional experience.
Working Man was another privately owned newspaper of that time, which started as a voice of working class, but succumbed to financial pressure within an year due to lack of advertisements.
However, newspapers like Daily Argosy, Guiana Graphic, and Daily Chronicle sailed through all the pressure and helped Georgetown become a media hub by the 1940s.
Literacy
Even though the country has a rich history of media, having started two centuries ago, Guyana's non-European population wasn't among the literates until 1876. However, the newspaper reader base increased with time and Guyana today claims of having a literacy rate of 98 percent. The reports contradicting these claims state that the functional literacy rate in Guyana is a little more than 50 percent.
Political Influence
Today, Guyana Chronicle is the only state-owned national daily newspaper that is published in Georgetown. Another newspaper that boasts of a greater circulation in the region is New Nation, which is owned by one of the two major parties in Guyana — People's New Congress.
Another political party, Working People's Alliance is publishing a national daily called Dayclean since 1979. The newspaper aims to voice the opinion of "the poor and the powerless" against government policies.
People's Progress Party also owns a newspaper titled "The Mirror", which is in existence since 1962. Though the 16-page newspaper is published twice a week, The Mirror has a circulation almost equal to daily newspaper New Nation.
For the liberals in Guyana, Stabroek News is a newspaper that started as a weekly. By 1991, the newspaper started publishing six days a week.
The Roman Catholic Church community also owns a national newspaper in Guyana under the title "Catholic Standard". The Catholic Standard was established in 1905 and today has an decent readership.
Specialised Newspapers
Guyana has specialised newspapers in sensational weeklies "True News", "Flame" and tabloid "Spice" to serve the adult audience. A weekly newspaper – Civil Society offers Guyana readers thought-provoking content on culture, politics and society.
Guyana newspapers and other periodicals' list
After explaining the origin and progress of newspaper industry and media in Guyana, here we present you a list of popular Guyana newspapers and news websites. We have tried to explain the origin, operations, status and popularity of these Guyana newspapers and news sources.
Stabroek News
The Stabroek News is a tabloid-styled daily newspaper of Guyana. It was founded in 1986 by David de Caires. The Stabroek News began as a weekly newspaper and later changed itself to a daily newspaper. It is headquartered at 46-47 Robb Street, Lacytown, Georgetown, Guyana.
Key People
The current Editor-in-chief of The Stabroek News is Anand Persaud. The founder of The Stabroek News, David DeCaires, passed away on November 1, 2008.
The entry of The Stabroek News in the mass media in Guyana led to a massive change and opened gates for other media platforms in the country.
For the unversed, The Stabroek News is also the only distributor of DirecTV Caribbean.
Controversies
Recently there was some controversy related to DirecTV Caribbean as illegal distributors of the channel in the country did not provide services to those who even paid for it.
The Stabroek News also has a website. It has sections like Sports, Business and Regional News. One can follow it on social media platforms such as Facebook, Twitter, Instagram and YouTube for the latest updates and alerts.
"The Stabroek News and Sunday Stabroek are Guyana's leading daily newspapers and online news source," the website writes in the About Us section of Facebook.
Business – Stabroek News ?
The Stabroek News has a dedicated section on its website for the coverage of news related to business. Business Cartoons, Business Editorial, Fashioning Change and Stock Market Updates are the sub sections of the Stabroek News Business website.
The business section aims to report on hundreds of micro and small businesses operating across in Guyana.
Business – Stabroek News Online
Kaieteur News
Kaieteur News is a newspaper of Guyana that is published on a daily basis. It is a privately-owned newspaper. Some of the popular columnists of Kaieteur News are Freddie Kissoon, Stella Ramsaroop and Adam Harris. The list of columnists also includes an anonymous one who goes by a pen-name "Peeping Tom".
Format
The format of Kaieteur News is tabloid. It is headquartered at Guyana 24 Saffon Street, Charlestown, Georgetown, Guyana. You can write to the newspaper at kaieteurnews@yahoo.com.
Website
Kaieteur News also has a website. It caters to the interests of its readers with different sections such as News, Radio, Editorial, Features/Columnists, Letters and Sports.
One can follow Kaieteur News on Facebook for the latest news and alerts. "Kaieteur News is the leading news agency in Guyana. We have the highest daily distribution and daily online readership." the website has written in the About Us section on Facebook.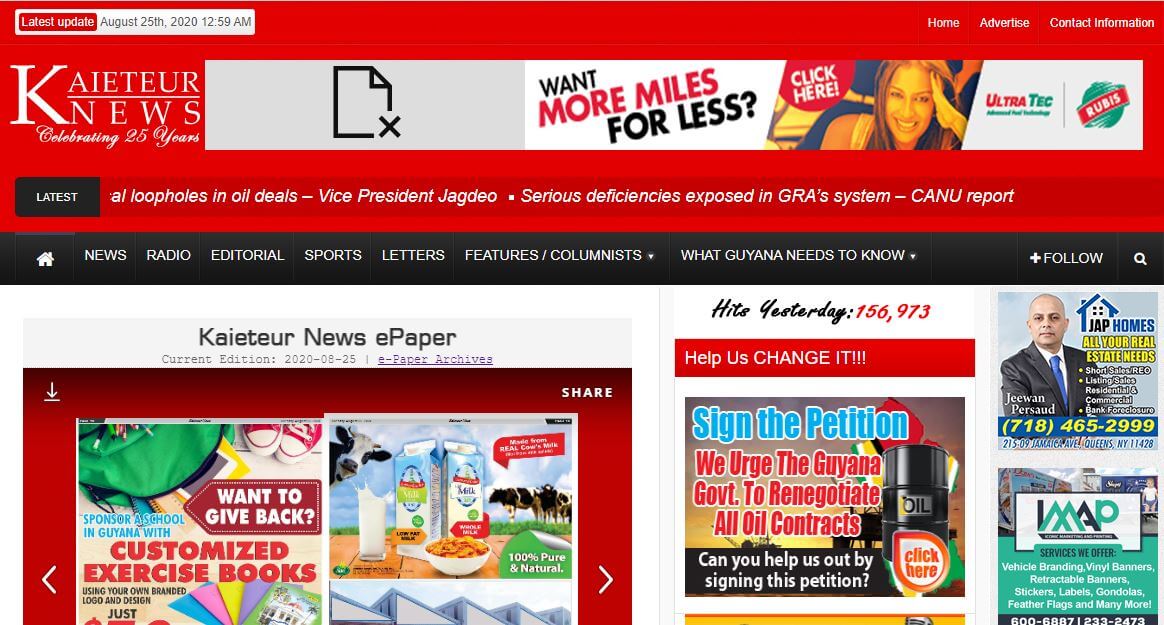 Sports – Kaieteur News
The website of Kaieteur News has a separate page for the coverage of news related to sports. Both national and international sports is covered by the Kaieteur News. The sports section majorly report on cricket but does not miss out on important non-cricket news as well.
The sports section of Kaieteur News also offers the sports enthusiasts a chance to write a "Letter to the Sports Editor" that is published on the website.
Guyana Chronicle
The Guyana Chronicle is a daily newspaper and a website. The Guyana Chronicle is owned by the Guyanese government. Sunday Chronicle is another print newspaper which gets published weekly. The tagline of The Guyana Chronicle is "The Nation's Paper". It is headquartered in Georgetown, which is the capital city of Guyana.
Website
The website has sections like Arts & Entertainment, Business & Environment and Courts among others. The Guyana Chronicle also has pages on Facebook, Instagram and Twitter, through which it shares news. In case of any query or suggestions, one can write to the Editor-in-chief at wnigel10@hotmail.com
Demerara Waves
Demerara Waves Online News is a news website. According to its Facebook page, "Demerara Waves Online News is an independent news entity that serves the north-east coast of South America and the large Guyanese Diaspora in North America, Caribbean and the United Kingdom". It is headquartered at Georgetown.
The tagline of Demerara Waves Online News is "Riding on the crest of truth". At the end of its homepage, one can find 'Recommended Radio Links', 'Recommended News Links' and 'Other News And Opinion Websites'.
The website has sections like Business, Agriculture, Health, Education, Sports & Recreation, Culture, Opinion, Podcasts and Videos.
?Guyana Times ?
The tagline of Guyana Times is "Beacon Of Truth". Guyana Times offers its readers news from various fields such as entertainment, music, fashion and politics among others. You can rely on this website for any breaking news and videos from Guyana.
Social Presence
One can follow Guyana Times on social media platforms like Facebook and Twitter for the latest news and alerts.
Under the section of 'Company Overview' on its Facebook page, the website writes, "First published on June 6, 2008, the Guyana Times journeyed where no other Guyanese daily had gone before, with full colour, broadsheet-style and a developmental perspective on news".
I News Guyana?
I News Guyana was founded in year 2012. It is headquartered at Georgetown, the capital city of Guyana. I News Guyana caters to the interest of its readers via different sections such as News, Politics, Crime, Court, Business, Sports, Health and Opinion.
"INEWS GUYANA is your #1 news, current events and entertainment website. We provide you with the latest breaking news and videos straight from Guyana," the website has mentioned in its About Us section.
One can write to I News Guyana via email at inewsgy@gmail.com and follow I News Guyana on Facebook for the latest news and alerts.
News Source
News Source has different sections like Politics, Crime, Sports, Entertainment and Caribbean & International among others. News Source is "Powered By Gomoseley Media".
If you have any suggestion, story idea or query, you can use the form available on their website. One can follow News Source on Facebook, Twitter and LinkedIn.
Guyana Times International
The Guyana Times International is a Guyana-based daily newspaper that is dedicated to news related to international affairs. The newspaper has a website as well that report news on regional and Guyanese affairs as well apart from the international news matters.
Headquartered at Georgetown, the tagline of the website is 'The Beacon of Truth'. It has sections like Features, Fashion and Sports among others.
Guyana Times International Online
Guyana Times International ePaper
National Communications Network (NCN) Guyana ?
National Communications Network (NCN) is a state-owned radio and television broadcasting corporation in Guyana. It was established in 2004 after the merger of government radio service, Guyana Broadcasting Corporation and GTV, which is the government-run television service.
National Communications Network is headquartered at Homestretch Avenue in Georgetown, Guyana's capital city.
National Communications Network (NCN) Guyana Online
Conclusion
Media enjoys great freedom in Guyana, as guaranteed by the country's constitution. However, the ruling government owns country's largest publication and thus, dominate other newspapers indirectly.
Guyana's current constitution says that every citizen is entitled to the basic right to living a "happy, creative and productive life". The right also includes "freedom of conscience, of expression and of assembly and association".
Freedom Of Expression
The government respect the freedom of expression as both media and citizen of Guyana openly criticize the public policies. However, the government has tried to maintain a healthy relationship with the press since the time of Guyana's independence from Great Britain in 1966.
There has been reported incidents of physical attacks on journalists during public protests. But despite that, media has flourished with time in Guyana. Stabroek News is one of the many independent newspapers that report fearlessly on Guyana's religious groups and political parties.
Guyana Chronicle is the only newspaper owned by the government of Guyana and publishes content on everything apart from the inside matters.
Other Media
The government also owns three radio stations and television network. Meanwhile, as many as 17 independent broadcasting stations operate in Guyana.
As far as online media is concerned, the Ministry of Information has the censorship rights over what all goes on the Internet. The government also put restrictions for public to access a variety of websites.
Media Criticism
Not just government, media too has been a subject of criticism among the citizen of Guyana for serving its own "vested interests".
There has been incidents in the recent past when the media was accused of interfering in government's efforts to improve economic and social conditions of Guyana with idea of privatization in the media industry. Many of the Guyana citizen today ask for a fair news coverage.
While the propelling industry knows no bounds, we at MediaBuzz are working hard to provide encyclopedic coverage of all the news sources. We are a team of professional writers with a knack for the trends in the world of journalism.
We are always looking for suggestions to produce a more concise list.
Please help us with your answers for the below questions in the comment section.
Which is the best newspaper in Guyana?
Which are the different newspaper in the Guyana?
Which is the best Guyana news website?
Which is the best newspaper in the Guyana with no bias?
Did we miss any deserving newspaper or news website?
What are your views on the political inclinations of different Guyana newspapers?
Which are the best Guyana newspapers for business, entertainment and sports news?
Is there any particular Guyana newspaper that caught your attention?
Do you have any other information related to Guyana newspapers?
Important Note:
We are always looking for people with a background in media/journalism/mass communication to contribute more articles for us. If you are an expert in the Guyana media industry, we would like you to help us make this article better.
We are also looking for companies/people who wish to sponsor this article and empower us to research and cover more valuable information about Guyana media.
For more details please contact us at mediabuzz.org@gmail.com