Introduction to North Korean News Media.
North Korea is quite popular for strictly controlling the media with the country's constitution promising nominal freedom of speech. The government puts prohibition on the news that comes in and goes out of North Korea.
Manipulation
The authorities also mold information that goes out in public. The most prominent example of news manipulation was when Kim Jong-il died no news came in public until two days. New leader Kim Jong-un soon replaced his father to follow his footsteps with an orthodox approach to most of the national affairs, including media.
Internet Media
New media on the internet still has some advantage in North Korea. Anyone can freely access to these online portal from within the country. The state-run media organisations have also made websites as the ownership of smartphones has increased drastically in the country.
According to a South Korea-based NGO, International Solidarity for Freedom of Information in North Korea, the government has somehow kept its control on the internet media as well. "There is no country which monopolizes and controls successfully the internet and information as North Korea does," NGO co-head Kang Shin-sam said.
Evolution
In 2017, a senior Korean researcher at Johns Hopkins University's School of Advanced International Studies, Kim Yon-ho, claimed that close to four million people had access to mobile internet in North Korea at that time. It amounts to one-sixth of the total population in North Korea.
Press Freedom
According to Reporters Without Borders, North Korea is consistently ranked close to the bottom of the Press Freedom Index that it releases annually since 2002. Recently, in 2020, North Korea ranked 180th in the list, only below Turkmenistan that has the lowest possible rank in the index.
Print Media
As many as 12 newspapers and 20 periodicals publish in Pyongyang, North Korea. No foreign newspaper can be accessed in the country. To brief the international media, the press in North Korean jointly publishes a New Year editorial. Some of the most prominent newspapers of the country include: Rodong Sinmun, Joson Inmingun, Minju Choson, Rodongja Sinmun and The Pyongyang Times.
North Korean newspapers and websites' list
Here below we present you a list of some of the most prominent newspapers, websites and news agencies operating in North Korea. With this list of prominent North Korean newspapers and other publications, we have tried to explain the origin, operations, status and relevance of these North Korean media houses in the country.
Rodong Sinmun
Rodong Sinmun is a daily newspaperin North Korea. Published in the broadsheet format, it is the mouthpiece of the Central Committee of the Workers' Party of Korea. Published by the Rodong News Agency, Rodong Sinmun has its headquarters in Pyongyang, the capital of North Korea.
History
Rodong Sinmun is considered an official newspaper of North Korea. The first issue of the newspaper was published on November 1, 1945. Rodong Sinmun was known as Ch?ngro until September 1946. It also has an English language edition, which was launched in January 2012. Rodong Sinmun has a news portal, which is accessible across North Korea over the Mirae public WiFi.
Circulation
Since 1996, a joint New Year editorial has been published by Rodong Sinmun, Minju Choson, Korean Central News Agency and Joson Inmingun. The joint editorial gives an idea of the country's policies for that particular year. Besides showering praise on the government and leadership, it aims to encourage the development of the country. The joint editorial is usually critical of the policies of Japan, South Korea and the United States against North Korea. The practice of joint editorial ended in 2013 after Kim Jong-un started delivering his New Year speech on television. As per 2015 figures, the circulation of Rodong Sinmun was 600,000.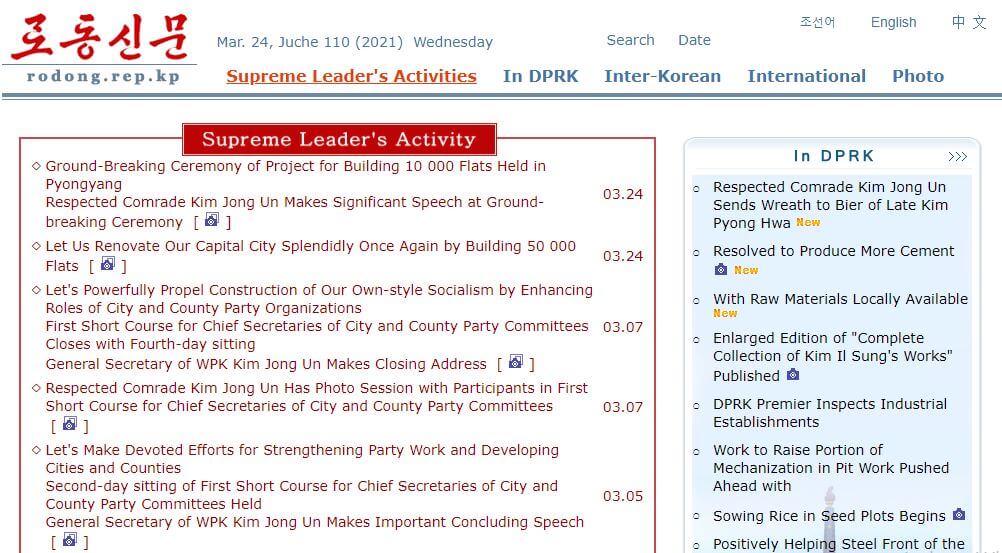 Koreana Central News Agency
Korean Central News Agency (KCNA) is a state-owned North Korean news agency. Established on December 5, 1946, it is the mouthpiece of the North Korean government. It is the only news agency in North Korea. KCNA provides services to all the news organisations in the country.
Ownership
As per the website, Korean Central News Agency "speaks for the Workers' Party of Korea and the DPRK government". KCNA is managed by the Korean Central Broadcasting Committee, which is under the Workers' Party of Korea's Propaganda and Agitation Department. Besides Korean, the news agency releases news translated into Spanish, Russian and English.
Website
Korean Central News Agency ventured into the digital platform in December 1996. Back then, its web server was based in Japan. However, since October 2010, the news website is controlled from Pyongyang. Now, the portal includes news reports and articles related to foreign countries as well.
Network
Apart from the capital city Pyongyang, Korean Central News Agency also has bureaus in municipalities. It has press exchange agreements with approx. 46 foreign news agencies including Reuters and Associated Press. AP even has a permanent bureau in the capital. The news agency has bureaus in six countries across the world including Russia and China. KCNA is also a member of the Organization of Asia-Pacific News Agencies.
Koreana Central News Agency Online
Uriminzokkiri
Uriminzokkiri is a North Korean news website controlled by the state. Owned by Korea 615 Shenyang Co., it was launched in 2003. At present, South Korea has blocked Uriminzokkiri.
Social Media Platforms
Uriminzokkiri launched its social media accounts on Facebook, YouTube and Twitter in August 2010. This was an attempt to build an image of North Korea across the world. YouTube banned Uriminzokkiri's official channel after legal complaints in January 2017. It also has an account on the Chinese video platform Youku.
Controversies
Uriminzokkiri shared a video on September 18, 2012, that had a photoshopped picture of South Korea's president-elect Park Geun-hye dancing on the song "Gangnam Style". On March 19, 2013, it posted a propaganda video on its YouTube channel related to America. The video showed an imagined missile attack on the U.S. government buildings such as the White House and the Capitol in Washington, D.C.
On April 3, 2013, the website of Uriminzokkiri along with its Twitter and Flickr accounts got hacked by a hacker group Anonymous. In a 'cyberwar against the DPRK', the hacker group claimed to have stolen 15,000 user passwords.
NKNews
NK News is an American independent news website that gives information regarding North Korea. Launched in 2011, it is based on subscription. NK News has its headquarters in Seoul, South Korea. It has reporters in London and Washington D.C. The website was founded by Chad O'Carroll, who has written extensively on North Korea and its issues for The Daily Telegraph
Social Media
NK News has accounts on all major social media platforms such as Facebook, Twitter and Instagram. It also has a YouTube channel. "NK News is an independent outlet that focuses on North Korea and publishes hard-hitting stories, unveiling sanctions violations, and delivering opinion from all sides of the Korean peninsula," reads the description on its Facebook page. NK News basically publishes reports on information received from in-country sources, news agency KCNAM, recently returned visitors to North Korea, reports by NGOs, western governments and interviews with defectors.
Achievements
NK News shot to international fame in November 2012 for its "North Korean Leadership Tracker". It portrays a graphic visual of every public event Kim Jong-il and his younger son Kim Jong-un have attended since 1994. In 2013, NK published a ground-breaking report of a purported North Korean "strike plan" against U.S. targets. NK News also broke stories such as Kim Jong-un's US$7 million yacht and pictures proving the date of the 2014 Pyongyang apartment collapse.
Daily NK
Daily NK is a digital newspaper that covers stories related to North Korea. It was founded by Han Ki Hong and the Network for North Korean Democracy and Human Rights in 2004. Based in South Korea, it mainly publishes stories in the Korean language besides English, Chinese and Japanese.
Funding
Besides private donors, it receives funds from various institutions including the National Endowment for Democracy, an NGO belonging to Carl Gershman and funded by the U.S. Congress. International media often cites Daily NK reports. Reportedly, former North Korean dictator Kim Jong-il's eldest son Kim Jong-nam even called it the most reliable source of accurate information on North Korea, especially about the country's markets.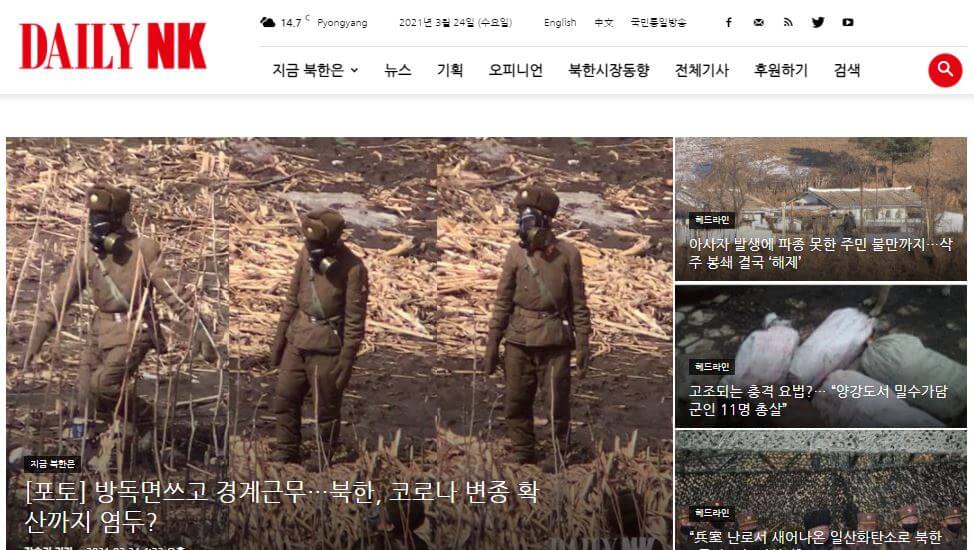 Naenara
Naenara is the official website of the government of North Korea. The web portal has categories such as economy, politics, society, culture and tourism among others. Naenara is owned by Korea Computer Center, which is the information technology research center of the North Korean government. Naenara covers publications like The Democratic People's Republic of Korea, The Pyongyang Times, Foreign Trade magazine, Korea Today magazine and Korean Central News Agency news. It is also available in English, Korean, French, Spanish, Russian, German, Chinese, and Japanese and Arabic languages. South Korean authorities have blocked the site since 2011.
Voice of Korea
Voice of Korea is a North Korean international broadcasting service. It primarily broadcasts in Russian, Japanese, Chinese, German, English, Spanish, and French and Arabic languages. The first foreign language broadcast of Voice of Korea was in the Chinese language on 16 March 1947, followed by Japanese-language in 1950 and English in 1951.
Origin
Its origin can be traced to 1936 when radio station JBBK, managed by the occupying Japanese forces broadcast the first program. Later, the station was renamed Radio Pyongyang in October 1945. The station's name was changed to Voice of Korea in 2002. Voice of Korea also has a news portal.
North Korea Times
North Korea Times is an English-language website. It claims to be the "oldest online news service in North Korea". Headquartered in Sydney, Australia, it is administered by Midwest Radio Network. While the idea of founding North Korea Times was conceived in 2002, the site was actually established in 2004. To cater to the interest of its readers, the website has segregated the stories into different categories such as international, South Korea, business, weather and many more.
Choson Sinbo
Choson Sinbo is a weekly Korean language newspaper. Based in Tokyo, Japan, the newspaper is also published in the Japanese language. According to Wikipedia, the first issue of Choson Sinbo? appeared on June 1, 1957. Published by the General Association of Korean Residents, Choson Sinbo also has a website. The news portal has different categories such as education, culture and history among others.
Conclusion
The North Korean media operates as per the agenda set by the government. Radio and television sets are automatically tuned to the stations owned by the government. The press also comes under direct control of the government and does not hesitate to publish flattering reports on North Korea's supreme leader Kim Jong-un.
Foreign Media
According to BBC, it is hardest for the foreign media to cover facts about North Korea. The country's own media does not report on famines and economic hardships. Even if any citizen manages to read, listen or watch reports by foreign media, he or she may face harsh punishments like forced labour. Foreign-based radio stations are already jammed by the North Korean authorities.
'Black Market'
A "communications black market" operate on the North Korea's border with China. According to Reporters Without Borders, it acts as the watchdog of North Korean Media. The internet access is also restricted in the country. Official news agency KCNA and state-owned newspaper Rodong Sinmun are among the media outlets with their presence on the internet. According to OpenNet Initiative, one can only access the sites that operate on the domestic intranet, where content is carefully filtered and user activity is closely monitored.
Neighbouring Media
China hosts a website called Uriminzikkiri that reports news using its official sources within the North Korean authority. It also has presence on social media platforms like Twitter, Flickr and YouTube. Some of the North Korean journalists write blogs for websites based in Japan and South Korea. According to a South Korean newspaper as many as 1,000 hackers are employed by the North Korean government to target other nations.
The country has signed a deal with an Egyptian firm for 3G mobile phone services. In 2013, North Korea allowed visitors to bring their mobile phones, though no call is allowed between locals and foreigners.
While the propelling industry knows no bounds, we at MediaBuzz are working hard to provide encyclopedic coverage of all the news sources. We are a team of professional writers with a knack for the trends in the world of journalism.
We are always looking for suggestions to produce a more concise list.
Please help us with your answers for the below questions in the comment section.
How many newspaper do we have in North Korea?
What is the first newspaper in Korean language?
Which North Korean language newspaper is best with no bias?
Who controls the media in North Korea?
What is the oldest existing English language newspaper in North Korea?
What are the different newspapers in North Korea?
What is the best North Korean news website?
Did we miss any deserving newspaper or news website?
What are your views on the political inclinations of different North Korean newspapers?
What are the best North Korean newspapers for business, entertainment and sports news?
Is there any particular North Korean newspaper that caught your attention?
Do you have any other information related to North Korean tabloids?
Important Note:
We are always looking for people with a background in media/journalism/mass communication to contribute more articles for us. If you are an expert in the North Korean media industry, we would like you to help us make this article better.
We are also looking for companies/people who wish to sponsor this article and empower us to research and cover more valuable information about the North Korean media.
For more details please contact us at mediabuzz.org@gmail.com