Introduction to Portland News Media.
Portland is a city located at the junction of the Columbia and Willamette rivers in the northwestern part of the US state of Oregon. In 2019, the United States Census Bureau claimed that Portland had an estimated population of 654,741, adding that close to 2.4 million people reside in the Portland metropolitan statistical area (MSA). It is almost 47 percent of Oregon's total population. With an industrial boom during World War II, Portland went on to become the first city to launch a comprehensive plan to reduce the emissions of carbon dioxide in 2010. Portland was ranked the 10th greenest city of the United States in 2018.
Media in Portland
The city has only one general interest newspaper that publishes on a daily basis — The Oregonian. However, the paper is available in Clark County of Washington as well. There are many small local newspapers that are circulated for free at various prominent venues of Portland. The Portland Tribune, which comes with general interest news on Tuesdays and Thursdays, alternative weekly newspaper Willamette Week and alternative Thursday newspaper The Portland Mercury are among the newspapers that are freely distributed in the city.
To serve the specific communities, Portland has Asian newspaper The Asian Reporter and African-American newspaper The Skanner. Both of these newspapers are published on a weekly basis. The Portland Business Journal is the most trusted weekly publication for all news related to business. The Daily Journal of Commerce is the second most read business newspaper in the city. Portland Monthly is a city-based culture magazine, while century old newspaper The Bee serves the inner southeast neighborhoods from with a base in Portland.
History of Portland Newspapers
The Oregonian is the first newspaper of Portland and it is still surviving. The daily was started as a weekly newspaper by Thomas J. Dryer on December 4, 1850. The Oregonian started publishing daily in 1861 and it is now owned by Advance Publications. From 1861 until 1937, the title of the newspaper was The Morning Oregonian. Not just Portland, The Oregonian enjoys the largest share of readership in Oregon as well. The Sunday edition of the newspaper is titled The Sunday Oregonian.
Portland newspapers and websites' list
Here below we present you a list of some of the most prominent newspapers and websites operating in Portland. With this list of prominent Portland newspapers and other publications, we have tried to explain the origin, operations, status and relevance of these Portland based mediahouses.
The Oregonian
The Oregonian is a daily newspaper headquartered in Portland, Oregon of the United States. Established by Thomas J. Dryer, it was first issued on December 4, 1850, as a weekly. In terms of circulation, The Oregonian is the largest newspaper in Oregon and the second largest in the Pacific Northwest. The Oregonian is the oldest newspaper on the U.S. west coast, which is still in print.
Willamette Week
Willamette Week is an alternative weekly newspaper based in Portland, Oregon, in the United States. Published in the tabloid format, it has been in publication since 1974. Its reporter Nigel Jaquiss won Pulitzer Prize for Investigative Reporting. Willamette Week is also the first newspaper to get a Pulitzer Prize for a story that was first published online.
Origin And History
Established by Ronald A. Buel, the first issue of Willamette Week was published in November 1974. Buel was also the first publisher of the weekly. Later, it was acquired by the Eugene Register-Guard, who sold it to Richard H. Meeker and Mark Zusman in 1983. While Zusman joined Williamette Week in 1982 as a business writer, Meeker was one of its first few reporters. Both of them established City of Roses Newspaper Company and started publishing Willamette Week and Fresh Weekly, which served as a free guide to local entertainment and arts.
Website
Willamette Week also has a website to complement its print edition. For the convenience of its readers, the portal has segregated the news stories into various sections and sub-sections such as restaurants, music, arts and many more.
Portland Mercury
Portland Mercury is a bi-weekly alternative newspaper established in June 2000. Based in Portland, it is published in the tabloid format. Owned by Index Publishing, it started as a weekly publication and changed to bi-weekly from September 13, 2018. On March 14, 2020, the newspaper temporarily shut down its print publication due to the COVID-19 pandemic. Currently, it is available only as a website. The Stranger headquartered in Seattle is its sister publication.
Portland Tribune
Portland Tribune is a weekly newspaper based in Portland that is distributed free of cost. It appears every Thursday in the broadsheet format. Owned by Pamplin Media Group, its first issue appeared in 2001 as a bi-weekly. The group publishes several community newspapers in the Portland metropolitan area. Portland Tribune also has a website. It is available on social media platforms such as Facebook, Twitter and YouTube.
Business Tribune
Business Tribune is a bi-weekly newspaper. Established in 2014, it is a part of Pamplin Media Group. It was published as a weekly only on Tuesdays until January 2016. Friday edition was added later. To cater to the interest of its readers, the website has categorised the news and articles into sections like opportunity magazine, Portland architecture, calendar, bids & sub-bids, publish and many more.
The Outlook
The Outlook is a newspaper based in Greshan in Oregon. Established in 1911, it was known as Gresham Outlook until 1991. Later, it came to be known as The Outlook. A part of Pamplin Media Group, it was published by H. L. St. Clair. In 2000, it was acquired by Robert B. Pamplin, Jr. The Outlook also has a website with sections such as opinion, sports, business, classifieds and many more. It is also available on Facebook and Twitter.
West Linn Tidings
West Linn Tidings is a newspaper published on a weekly basis in West Linn of Oregon. A part of the Pamplin Media Group, the first issue of the newspaper was published in 1980. It was earlier published by the Lake Oswego Review. West Linn Tidings also has a news portal with multiple sections. It is present on Facebook and Twitter as well.
Wilsonville Spokesman
Wilsonville Spokesman is a weekly newspaper headquartered in Wilsonville in Oregon. The first issue of the weekly appeared in 1983. It appears on Wednesdays and is owned by Pamplin Media Group since January 2013. The newspaper was established by Thomas Russ Dillon. The Newberg Graphic and The Canby Herald are its sister publications.
Daily Vanguard
Portland State Vanguard is a student newspaper for Portland State University. Headquartered in Portland, it was earlier known as the Daily Vanguard. It was founded in 1946. Back then, it was the newspaper of the Vanport College Extension in Vanport. Its first issue was published by a blind military veteran Don Carlo, who was also its founding editor. Portland State Vanguard has a website as well. It is also available on Facebook, Twitter, Instagram and YouTube.
Daily Journal of Commerce
Daily Journal of Commerce is a business newspaper based in Portland. The first issue of the newspaper appeared in 1872. Daily Journal of Commerce is owned by Gannett. Founded by George H. Himes, it was originally known as the Commercial Reporter. Daily Journal of Commerce is published on Monday, Wednesday and Friday every week.
Daily Journal of Commerce Online
Street Roots
Street Roots is a weekly alternative newspaper based in Portland. It mainly covers issues related to homelessness. Street Roots was founded in 1998 and is published every Friday. Street Roots also has a website with sections such as social justice, housing, environment, culture, opinion and podcasts among others.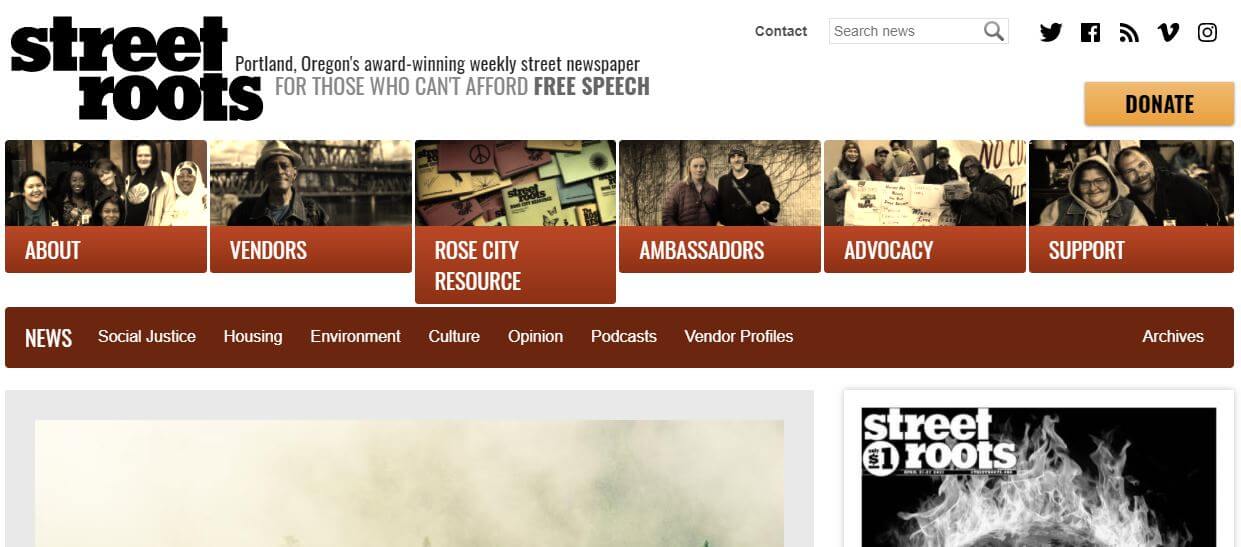 Portland Observer
Portland Observer, established in 1970, is a weekly newspaper. Published in Portland on Wednesdays, it is one of the oldest African-American newspapers in Oregon. Established by Rev. Alfred L. Henderson, it is currently owned by Mark Washington. Portland Observer also has a news website.
Portland Alliance
Portland Business Alliance is a news website with sections like advocacy, programs, newsroom and resources among others. Headquartered in Portland, Oregon, it is a non-profit organisation founded in 1870. Portland Business Alliance is also available on social media platforms such as Facebook, Twitter, Instagram and LinkedIn.
The Skanner
The Skanner is a defunct newspaper that was first published in October 1975. It ceased its operations as a weekly print publication in 2020. Currently, it is available only as a website with sections such as northwest, USA, world, special editions and entertainment among others. The Skanner is also present on Facebook, Twitter, Instagram and YouTube.
The Asian Reporter
The Asian Reporter is a newspaper published twice a month. Based in Portland, it was established in 1991. It appears on the first and third Monday of every month. As the name suggests, The Asian Reporter mainly focusses on news related to Asia and other international and local Northwest news.
Conclusion
Portland is home to many long established newspapers of the United States, along with some very relevant television and radio stations. The Internet media is also developing at a quick pace in Portland. The newspaper market of Portland is 22nd largest in the US and also serves Vancouver city of Washington state.
Biggest Paper
Currently, The Oregonian acts as the biggest and only daily newspaper of Portland. Besides the state of Oregon, the newspaper is also distributed in Clark County of Washington. The Columbian, which is published in Vancouver of Washington, also features local news from Portland.
Prominent Papers
Other local newspapers that are published in Portland and distributed for free include Portland Tribune, Willamette Week and Portland Mercury. All these newspapers are published on an alternative weekly basis.
Foreign Papers
Some of the newspapers publish outside of Portland but can be found easily with the city. Monthly newspaper Northwest Examiner has a circulation of 23,000 copies in Portland, Pearl District and Goose Hollow. The newspaper is in distribution since 1986. Another monthly newspaper Southeast Examiner claims to have a circulation of 24,600 copies.
For the residents of Southwest Neighborhoods, Inc coalition, Southwest News is distributed on a monthly basis. While an approximate 9,000 copies are mailed, some of them are distributed in the lobby of the Multnomah Arts Center. Sellwood Bee is another monthly newspaper that is being distributed among the inner southeast neighborhoods since 1906.
While the propelling industry knows no bounds, we at MediaBuzz are working hard to provide encyclopedic coverage of all the news sources. We are a team of professional writers with a knack for the trends in the world of journalism.
We are always looking for suggestions to produce a more concise list.
Please help us with your answers for the below questions in the comment section.
How many newspaper do we have in Portland?
Which Portland newspaper is best with no bias?
Who controls the media in Portland?
What is the oldest existing English language newspaper in Portland?
What are the different newspapers in Portland?
What is the best Portland news website?
Did we miss any deserving newspaper or news website?
What are your views on the political inclinations of different Portland newspapers?
What are the best Portland newspapers for business, entertainment and sports news?
Is there any particular Portland newspaper that caught your attention?
Do you have any other information related to Portland tabloids?
Important Note:
We are always looking for people with a background in media/journalism/mass communication to contribute more articles for us. If you are an expert in the Portland media industry, we would like you to help us make this article better.
We are also looking for companies/people who wish to sponsor this article and empower us to research and cover more valuable information about the Portland media.
For more details please contact us at mediabuzz.org@gmail.com