One of the most prominent media industries in the country, Marathi journalism has been a cradle for early Indian journalism. It has played a pivotal role in the uprising of Indian journalism industry in the second half of 19th century. It not only gave rise to the articulate expression of socio-political issues in Maharashtra, but also played a catalyst for many social reforms outside Bengal.
Today, almost 400 Marathi newspapers account for more than 6 percent annual circulation of newspapers in India. Several groundbreakinig media publications root back to Marathi media, including Bombay Darpan, Kesari, Din Bandhu andmany more. In this article, Mediabuzz has created a comprehensive list of Marathi Newspapers and ranked them in terms of popularity and circulation.
History
In the annals of history, the first Marathi-language newspaper is touted to be Mumbapuri Vartnam that first published on 20 April 1928. However, the paper was a derivative of the English-language newspaper Bombay Gazette. The first independent Marathi newspaper was Darpan, launched by Balshashtri Jambhekar on 6 Jan 1832. Though it ended circulation in 1840, it jumpstarted the progress of Marathi journalism.
Many other newspapers followed Darpan, like Mumbai Akhbar (started by Directors of United Service Gazette), Dyan Sindhu (Est. 1842), and Prabhakar (Est. 1841). During the mid-19th century, many Marathi newspapers like Dyanodaya (Est. 1842) followed a theme of promoting Christian missionaries. This led to a wave of counter-opinion newspapers, the most prominent of which was Kesari. Launched by Bal Gangadhar Tilak in 1881, Kesari survives as one of the oldest-running newspapers in the country.
While early Marathi journalism was concentrated in Mumbai, it changed with Mitrodaya, the first newspaper to be published from Pune. Dyanaprakash, launched in 1952, followed suit. Deenbandhu was started by prominent Dalit activists to promote Dalit upliftment in Maharashtra. In 1907, Hindu Panch was launched and was the first Marathi newspaper to feature cartoon strips. However, the period between 1900-1930 was difficult for Marathi journalism due to a clampdown from the British government. In 1932, Sakal was launched by Nanasaheb Parulkar to fulfill the nationalistic aspirations of the country.
A prominent feature of the post-Independence state of Marathi journalism was the concentration of readership. Even though circulation increased, literacy was not widespread across the smaller towns in the state. As such, Mumbai, Pune, and Nagpur became the hotspots for newspaper readership. At one point, these 3 states accounted for almost 60 percent of the total sales of Marathi newspapers. Beginning in the 1980s, Marathi journalism adopted technological advancements to improve prints and reach.
Prominent Journalists
Balshashtri Jambhekar, the founder and editor of the first Marathi newspaper "Darpan", is often called the "Father of Marathi Journalism". Govind Vitthal Kunte, who started Prabhakar in 1941, is considered the first professional Marathi journalist. Bal Gangadhar Tilak, the founder of Kesari, is also seen in high regard for popularizing Marathi journalism among the masses.
Current Challenges
Unlike other vernacular journalism, Marathi journalism has managed to stay relevant and strong over the years. One of the primary reasons is that while national newspapers often only focus on major Maharashtrian cities like Mumbai and Pune, regional Marathi newspapers are strong roots even in the remote parts of the state. The prevalence and promotion of Marathi among the people of Maharashtra have also contributed to the continued success of local journalism. However, attacks on journalists have been a persistent challenge to Marathi journalism, especially when criticizing the government or political parties. In recent times, local Marathi newspapers and reporters have faced undue pressure from the government. Marathi journalism industry would have to show solidarity and offer mutual assistance if they hope to sustain from the political pressure.
Loksatta
One of the oldest Marathi newspapers in the country that continue to be published, Loksatta has a long legacy behind it.
History
Loksatta was founded on 14 January 1948 by Ramnath Goenka, one of the most eminent names in Indian journalism. Upon its launch, it immediately became widely popular due to its reporting. Until the 1990s, it continued to be the most widely read Marathi newspaper. Its sales dwindled in the 90s, facing competition from newer Marathi dailies. However, the circulation recovered since the 2000s under new management. The paper is owned by the Indian Express Group, one of the largest media houses in India.
Circulation and Reach
Loksatta is published out of Mumbai, Pune, Nagpur, and 6 other cities in Maharashtra. It was estimated to have a daily circulation of 3,15,092 copies by Audit Beuaru of Circulations (Jul-Dec 2019).
Political Bias
Loksatta generally enjoys a reputation of being politically neutral and unbiased. It's reporting often carries some liberal views.
Lokmat
With the highest readership among all Marathi dailies, Lokmat stands as the absolute favorite of Marathi readers.
History
Lokmat was founded by author and social activist Jawaharlal Darda in 1973 in Nagpur. Since then, the newspaper has steadily increased its reach. Since the past decade, it has stood firmly as the most-read Marathi daily newspaper in the country. Today, it is managed by his family, including son Vijay Darda and Rajendra Darda
Circulation and Reach
Lokmat is published from 12 major cities of Maharasthra, including Nashik, Mumbai, and Aurangabad. It is also published in Goa, where again it is the most-read Marathi newspaper. In 2017, Lokmat boasted a daily average readership of more than 18 lakhs. In the fourth quarter of 2019, Lokmat had a total readership of 6.28 million (IRS Survey).
Political Bias
The owners of the newspaper, the Darda family, have been long-term members of the Indian National Congress. Rajendra Darda has been a minister under the Congress government in Maharashtra, while Vijay Darda has been a Rajya Sabha MP from Congress. As such, the newspaper has frequently been cited as being biased towards Congress.
Sakaal
One of the most popular newspapers in Marathi journalism, Sakaal has a rich history to be proud of.
History
Sakaal was founded by Dr. Nanasaheb Parulekar on 1 January 1932. The newspaper was started during the heights of the Indian independence movement and thus carried nationalistic ideals. Since the 1960s, Sakaal focused on the Marathi middle-class which was becoming increasingly influential. In 1973, Sakaal (along with Sakaal Media Group) was taken over by Pratap Govindrao Pawar. Since then, the Pawar family has managed Sakaal. In the 1990s, Sakaal was giving tough competition to national dailies like Times of India and Indian Express in Maharashtra. As of 2021, Abhijit Pawar was the managing director of the Sakaal Media Group.
Circulation and Reach
Sakaal currently holds the position of being the most sold Marathi newspaper in Maharashtra. It had a circulation of 1.3 million in 2018 (ABC, July-Dec 2018), which remained almost unchanged even in 2019 (1.26 million, July-Dec 2019). The main Pune edition has a circulation of more than 5 lakh. Sakaal is published in 13 cities of Maharashtra.
Political Bias
Sakaal is owned by the Pawar family, whose member is NCP leader Sharad Pawar, due to whichthe newspaper is often accused of a pro-NCP stand.
Saamana
Since its inception, Saamana has been a strong voice of one of the major political parties in Maharashtra.
History
Saamana was found on 23 January 1988 by Bal Thackerey, the founder of the Shivsena. The paper was launched to be a vehicle for Thackerey's views, as well as to promote local, regional and linguistic sentiments. It has since been managed by the Thackerey family.
Circulation and Reach
Saamana is published in 7 cities, including Mumbai and Pune.
Political Bias
Saamana has an open affiliation with the Shiv Sena party, often attributed as the party's mouthpiece. As such, it has a strong bias towards Shiv Sena and the Thackerey family. One of its reporting agendas includes pro-Marathi sentiments. Saamana has often been accused of using propaganda to support Shiv Sena's viewpoints, particularly during the 1992-93 Bombay Riots.
Pudhari
From its humble beginnings in Kolhapur, Pudhari has contributed to Marathi journalism for over 75 years.
History
Pudhari was first launched as a weekly in 1937 by the Kolhapur News Association; it turned into a daily in 1939. G G Jadhav, considered to be the Father of Pudhari, became its owner in 1943. Since then, the Jadhav family has managed the newspaper. For the longest time, Pudhari was concentrated only in Kolhapur and considered a local newspaper. Since the 1990s, the newspaper has expanded to other cities. Today, Pudhari is considered one of the most prominent local newspapers in West Maharashtra.
Circulation and Reach
Pudhari publishes 20 editions from various cities of Maharashtra, Goa, and North Karnataka. In 2008, Pudhari was selling an average of 5 lakh copies (July-Dec 2008, ABC). Today, Pudhari sells more than 9 lakh copies every day, with an overall readership of almost 40 lakhs.
Political Bias
In 2007, Pudhari was accused of publishing fake news against Congress leader and then-CM, Ashok Chavan. Due to its fierce rivalry with Sakaal, Pudhari is often accused of having an anti-NCP stance.
Tarun Bharat
It is the oldest running newspaper from Belgaum.
History
Tarun Bharat was founded in 1919 in Belgaum, Karnataka. In 2001, it became a subsidiary of Tarun Bharat Daily Pvt. Ltd.
Circulation and Reach
Tarun Bharat publishes 8 editions from North Karnataka, Southern Maharashtra, Konkan regions, as well as Mumbai and Pune. In 2006, it had a total circulation of 1.26 lakh (Jan-Jun 2006). Of this, half the copies were sold outside Maharashtra.
Divya Marathi
The Marathi branch of the newspaper giant Dainik Bhaskar.
History
Divya Marathi was launched on 29 May 2011. It was the Marathi language edition of Dainik Bhaskar. Launched from Aurangabad, it expanded to four editions within the first year of publication. It is owned by D.B. Corp. Ltd.
Circulation and Reach
In 2012, Divya Marathi had a readership of 3.42 lakhs in Aurangabad alone. As of now, it offers 6 editions from various cities of Maharashtra.
Prahaar
Prahaar has a small but loyal presence in Marathi journalism.
History
Prahaar was founded in 2008 in Mumbai. Ever since then, it has expanded slowly into other cities.
Circulation and Reach
Prahaar is published from four centers in Maharashtra: Mumbai, Thane, Sindhudurg, and Ratnagiri. As of 2016, it had a daily circulation of 1.5 lakh.
Political Bias
Prahaar is owned by Maharashtra politician Narayan Rane. As such, Prahaar has often been accused of being a mouthpiece of Rane and publishing news favorable to him.
One of the oldest small newspapers of Maharashtra.
History
Nava Kaal was founded by K P Khadilkar after quitting Kesari. It was launched in 1923 in Mumbai. It has since been managed by the Khadilkar family.
Circulation and Reach
In 1999, Nava Kaal accounted for 8 percent of the overall daily Marathi sales in the state. Today, it is published as an e-paper from Maharashtra.
Political Bias
Nava Kaal has been accused of pro-INC and then pro-Shiv Sena bias.
Deshdoot
Deshdoot is a newspaper published from Nashik.
History
Deshdoot was founded in 1966 by Deokisan Sarda as a weekly. It became a daily in 1970. Started in Nashik, the newspaper expanded to other cities in the 1990s.
Circulation and Reach
Deshdoot publishes 5 editions from Nashik, Dhule, Ahmednagar, Jalgaon, and Nandurbar. In 2001, Deshdoot was selling 1 lakh copies daily. In 2009, Deshdoot had a daily circulation of 85,000 copies (excluding Ahmednagar).
Punya Nagari
Punya Nagari is one of the most prominent newspapers in Latur. It was founded by Murlidhar Shingote. The newspaper publishes 15 editions of its e-paper, from Aurangabad, Mumbai, Pune, and Nashik. Since 2020, it is a part of Punyanagari Newspaper Group, whose publisher is Pravin Shingote.
Agrowon
Agrowon was established in 2005 as part of the Sakal Media Group. It is a daily newspaper dedicated to agricultural and rural issues. The newspaper covers all aspects of agriculture, including market, farming practices, technical innovations, and government policies.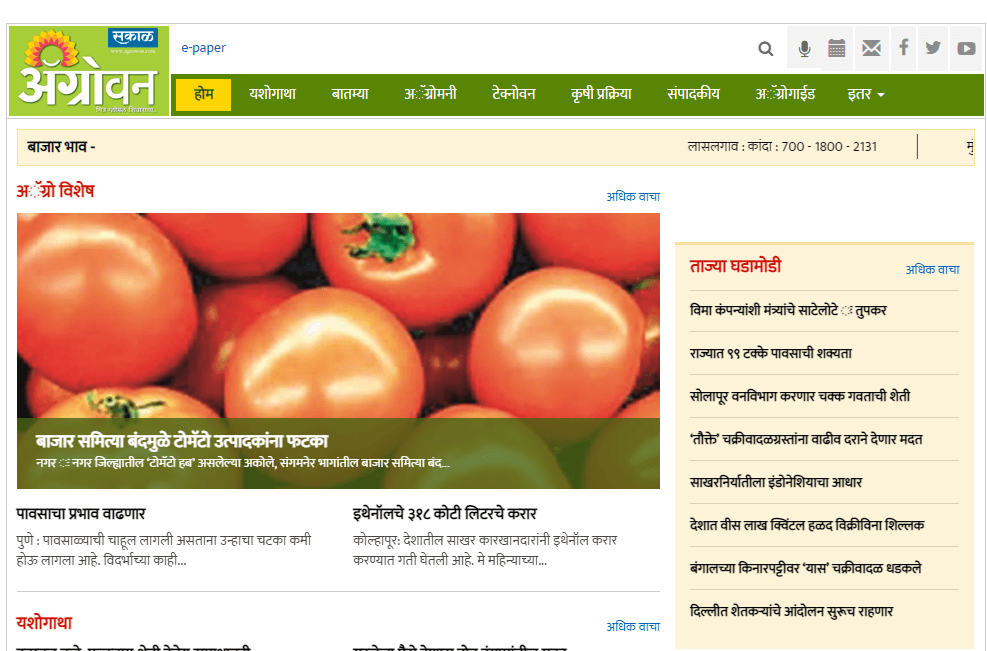 Deshonatti
Deshonatti is a prominent e-paper published from Akola, Maharashtra. The Marathi newspaper has 15 digital editions, including Amravati, Nagpur, and Dhule. The newspaper was founded in 1986. The newspaper has various sections like Crime, Entertainment, Sports, and Lifestyle.
Sanchar
Sanchar is popular news daily based in Solapur, Maharashtra. It was founded on 13 October 1961 by M K Kadadi and others. Currently, Sanchaar newspaper is a subsidiary of Sangam Papers Corporation. The newspaper publishes a single digital edition from Solapur.
Navshakti was founded in 1943 by prominent journalist S. Sadanand. The newspaper was renowned for the column "Batkyachi Brahmanti" by Pramod Navalkar that lasted for 52 years.
Based in Mumbai, Navshakti also publishes from Thane and Konkan. In 2012, the newspaper had a circulation of almost 84,000 across Maharashtra.
Dainik Shivner
Dainik Shivner is another prominent small newspaper with a rich history. It was founded by Vishwanathrao Wable in 1955. Daily Shivner publishes its e-paper with a single edition from Mumbai.
Ekmat
Ekmat, also known as Dainik Ekmat, is a Marathi daily newspaper published primarily from Solapur and Marathwada. The newspaper also published six editions of its e-paper. Ekmat is currently owned by Latur-based Indo Entreprises Pvt. Ltd. and is their flagship publication.
Ekmat was founded by Vilasrao Deshmukh, former CM of Maharashtra. The newspaper has been accused of having a strong pro-INC bias in the past.
Dainik Aikya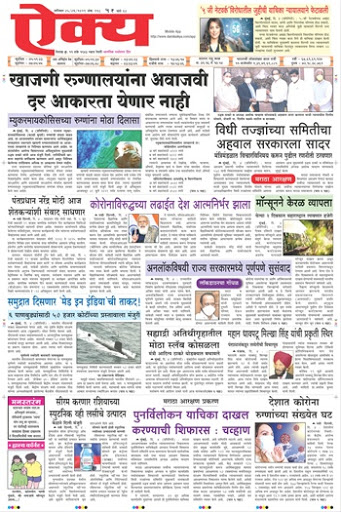 Aikya is one of the oldest local newspapers in Marathi journalism. It was founded on 7 October 1924. The newspaper primarily covers the local news of the Satara district in Maharashtra. The news website has various columns, publishing words of influential writers and common people alike.
Beed Reporter
Also known as Dainik Reporter, this newspaper is based in Beed, Maharashtra, and primarily covers local news in the city. It was founded in 2013. Beed Reporter has often made news for their investigate ground journalism.
Gomantak
Gomantak, or Dainik Gomantak, is one of the leading Marathi dailies outside the state of Maharashtra. It is published in Panjim, Goa. The newspaper is owned by the Sakal Media Group. The original publication of the newspaper began on March 24, 1962.
Lokasha
Lokasha is a prominent newspaper from the town of Beed, Maharashtra. The newspaper is widely regarded for its ground reporting and investigation into local issues. It is the most circulated newspaper from Beed.
Parshv Bhumi
Parshv Bhumi is another leading newspaper from the town of Beed, Maharashtra. The newspaper primarily covers the events of Beed and Maharashtra. Another edition of the newspaper is published from Jalana, Maharashtra.
Lok Prashn
Lok Prashn is a prominent Marathi daily newspaper from the district of Beed, Maharashtra. The newspaper covers primarily the local news of the region and is known for its ground reporting.
Marathwada Neta
Marathwada Neta is one of the leading Marathi dailies that publishes news from the Marathwada region of Maharashtra. The newspaper has a significant reach in districts like Latur, Beed, Nanded, and Osmanabad.
Dainik Murder
Dainik Murder is a Marathi newspaper that focuses on local news of the state of Maharashtra. The newspaper is published from Jalgaon, Dhule, Nashik, and Nandurbar.
Zunjar Neta
Zunjar Neta is a Marathi daily newspaper from Beed, Maharashtra. The newspaper covers a wide array of news, from local and state to national and international. It is considered the leading Marathi daily from Beed.
Maharashtra Times
Coming from the house of The Times of India, Maharashtra Times is one of the most widely read newspapers in the state of Maharashtra. Like its sister newspaper TOI, Maharashtra Times has most of its readership concentrated in the Mumbai area.
History
Maharashtra Times was launched on 18 June 1962. It is the Marathi flagship newspaper of the BCCL group, alternatively known as The Times Group. The newspaper has its headquarters in Mumbai.
Circulation and Reach
In a 2005 IRS survey, Maharashtra Times was the largest read Marathi daily and the 2nd largest read newspaper in Mumbai. While its readership declined over the years, it is still counted among the ten most-read Marathi dailies in the country.
Maharashtra Times published 6 editions from Mumbai, Nashik, Pune, Thane, Nagpur, and Aurangabad. In May 2020, it closed its Jalgaon, Kolhapur, and Ahmednagar editions because of the COVID-19.
Navrashtra is a popular Marathi daily published in Mumbai. It has four primary editions – Mumbai, Pune, Nashik, and Nagpur. Navrashtra is a part of the Navbharat Group which was founded in 1934. The newspaper has a good reach in the rural areas of Maharashtra. Navrashtra covers news from all regions of the state, as well as National, Entertainment, Lifestyle, and Sports news.
Adarsh Gavkari
Adarsh Gavkari is a Marathi daily newspaper published from Aurangabad, Maharashtra. The newspaper is primarily focused on agricultural issues and news in the state of Maharashtra. The newspaper aims to cover the daily issues that cover the life of the common public. The newspaper publishes editions from Aurangabad, Ahmednagar, Nanded, and Latur.
Janpravas
Janpravas is a prominent newspaper published from Sangli, Maharashtra. The newspaper covers Sports, Politics, Business, and Entertainment news on both state and national levels. Janpravas published four editions from Mumbai, Sangli, Pune, and Kolhapur.
Lokmat News18
Lokmat News 18 is a joint venture between Lokmat Group and Network 18. The website is an extension of the 24-hour news channel with the same name.
History
The joint venture was founded on 6 April 2008 on the occasion of Gudi Padwa, an important festival in the Marathi and Konkani communities. It was originally named IBN Lokmat but later rebranded as News 18 Lokmat in 2017. In 2014, Network 18 Group was acquired by Reliance Industries Limited, and Network 18 Lokmat became part of the Reliance group.
Political Bias
Since its acquisition by Reliance group, Lokmat News 18 has often been accused of being pro-BJP.
Conclusion
With a history of almost 190 years, Marathi journalism has a long, glorious past to reflect upon. But like every other journalism industry, it too faces certain challenges – both from within and outside. However, the flame of journalistic integrity will ensure that Marathi journalism continues to not just stay relevant, but even emerge better and stronger. The new wave of Marathi journalists is proving their mettle in both digital and print journalism. Marathi journalism has an impeccable legacy behind it, but it can create an even more impressive legacy for generations to come.
The journalism industry continues to grow leaps and bound, but we at MediaBuzz are working hard to provide encyclopedic and comprehensive coverage of all news sources. We are a team of professional writers looking to keep up with every trend in the world of journalism.
We are always looking forward to suggestions that could help in improving our work.
Please help us by answering the below questions in the comment section.
Did we miss any newspaper or news website that deserves to be on this list?
What are the best Marathi newspapers in your opinion?
What are your views on the political inclinations of various Marathi newspapers?
What is the best Marathi newspaper for Entertainment news?
Is there any particular newspaper that caught your attention?
From the list above, which newspaper or news websites have you read in the past?
What is the best Marathi newspaper for political news?
Do you have any information related to Marathi newspapers that we should know?
Important Note:
We are always looking for people with a background in media/journalism/mass communication to contribute more articles for us. If you are an expert in the Marathi media industry, we would like you to help us make this article better.
We are also looking for companies/people who wish to sponsor this article and empower us to research and cover more valuable information about Marathi media.
For more details, please contact us at mediabuzz.org@gmail.com