Introduction to Turkish News Media

Turkey, alongside a dynamic history of drastic changes in political regimes and culture, also has a very old newspaper-reading culture. The first newspaper to be circulated in Turkey dates back to the 18th century. Interestingly, it was not in Turkish but in French. Under the Ottoman Empire, Turkey had a newspaper from France since 1796 and another from Smyrna since 1824.
The first Turkish newspaper — Takvim-i Vekayi — came along in 1831. Started by Sultan Mahmoud II, it became the official newspaper of the Ottoman Empire. Then, the Englishman William Churchill founded Ceride-i Havadis in 1840, employing writers and editors from the Ottoman regime to handle it. Tercüman-? Ahvâl was published in 1961 while yet another newspaper — Tasvir-i Efkâr — came out the following year.
With the Young Turk Revolution in 1908, Turkish media went through the relaxation of censorship and, for the first time, had the opportunity to become more than the official outlets of state news. The period saw a shot-lived explosion of publications that came up in Istanbul and Izmir, among others.
The second shift in Turkish media came in 1923 when Turkey became a republic under Mustafa Kemal (Atatürk). However, since 1940, the Turkish media landscape kept changing along with drastic changes in political regimes. For instance, in 1946, several liberalizing policies were passed, increasing press freedom in the media, while several mass-circulation newspapers emerged. But again, by the 1950s, the government took to silencing the media to smother dissent and spread propaganda.
Today, Turkish language newspapers are the most popular in the country with newspapers like Hürriyet, Sabah, Posta, Sözcü and Habertürk. In 2017, as many as 2475 newspapers were being published in Turkey, of which 176 were national newspapers that reported on a wide variety of issues, including the internal strife that followed the failed coup-d'état attempt in 2016. However, this event also led to large scale censorship and closing of newspapers, media houses, magazines, publications, television and radio channels.
Apart from the national newspapers, Turkey also has a vibrant local media scene, with almost 51 regional newspapers as per TurkStat's data from 2017, as well as, a whopping 2247 local newspapers that intimately report on local matters of importance and bearing. However, the media in Turkey is vastly influenced by the Justice and Development Party (AKP) led by President Recep Tayyip Erdo?an that often uses censorship to make the media comply. Additionally, the conglomerate-driven ownership structure of Turkish media also makes it difficult for independent news and press freedom as most media houses are owned by business magnates and former politicians who have their own personal and political allegiances.
Nevertheless, the readership of newspapers remains high in Turkey. In 2018, the Turkish Statistical Institute (TurkStat) released statistics for the collective circulation of newspapers and magazines based in Turkey which was over a billion, of which newspapers made up 94.2 percent.
In this article, we present a comprehensive list of the local and national Turkish newspapers, as well as online news portals, organized according to the following categories:
A. Turkish Newspapers and Turkish Online News Portals
B. Business Newspapers
C. Sports Newspapers
D. Turkish Press Agencies
A. Turkish Newspapers and Turkish Online News Portals
In Turkey, a majority of the newspapers and news websites are in Turkish, only some of which have separate editions in English. Also, most Turkish newspapers are circulated nationally, alongside a significant share of local or regional Turkish newspapers. Now, with the advent of the digital age, most of the popular Turkish newspapers have launched news websites to supplement their print versions. Moreover, several online news portals have come up over the last decade (2010-2019), making the industry more diverse and dynamic.
En Son Haber
En Son Haber was founded in 2005 and is a popular Turkish newspaper that has a considerable online presence. Its mission is to ensure that the general public has access to all breaking news about the country and the world. It focuses on a variety of issues such as world news, economic news, women's issues, and technology.
It also includes a special section, called 'autobiographies', that delves deep into the lives of famous people who have been of importance to Turkish people and culture. Another special section on books showcases literature of all kinds, and multiple articles and pieces on books, poetry and reading. This unique take on news and media also makes En Son Haber's readership demographic quite diverse, with representation from various sections of society. The magazine section of the paper publishes popular paparazzi-style news, which caters to a large section of the public. With 481.4k followers on Twitter, it is a slightly different, yet informative news source.
Hürriyet
The largest newspaper in Turkey, Hürriyet was founded by Turkish filmmaker, writer, and journalist Sedat Simavi in 1948. When the paper was first started, it had a total staff strength of just 48 people. From there, the newspaper has grown to be the biggest in terms of circulation in Turkey.
It is well established as a newspaper that serves middle-marker coverage— that is, it caters to both entertainment news, as well as, comprehensive serious reportage about politics and other issues. It is also one of the oldest English-language dailies in Turkey. In January 2017, Hürriyet was the second most visited newspaper in Turkey and the fourth most visited news website in the country.
Hürriyet is known for its pro-government stance. It was initially owned by the Do?an Yay?n Holding or the Dogan Media Company, founded by Aydin Dogan. However, in March 2018, the company was sold to Demirören Group for $1.2 million. The 81-year-old Dogan fought a series of legal battles with AKP Recep Tayyip Erdogan, including being slapped with multi-million dollar lawsuits. The Demirören Group is a conglomerate with interests and investments spread across various sectors and is known to be close to the ruling AKP party.
Hürriyet is printed in six Turkish cities including Istanbul, Ankara, Izmir, Adana, Antalya, and Trabzon. It is also printed in Frankfurt, Germany. Hürriyet also has an English-language version called Hürriyet Daily News.
As of January 2018, Hürriyet's circulation in Turkey was approximately 3,19,000 — the highest any newspaper had in the country. According to critics of the AKP government, the Dogan Media Company's takeover was motivated by the ruling party's attempt to absolutely control media coverage in Turkey. Apart from Hürriyet, the company also owned Posta and two of Turkey's leading TV channels — Kanal D and CNN Turk.
Ak?am
Founded in 1918, Ak?am — meaning 'evening' in Turkish — is one of the oldest newspapers in Turkey. Its founders included several important people, such as Necmettin Sadak, FalihR?fk?Atay, Kaz?m?inasiDersan, and Ali Naci Karacan.
Sadak was a politician and former Minister of Foreign Affairs in the Turkish government. Karacan was a veteran journalist who went on to found Milliyet. Atay was also a former politician, as well as, a journalist. Since its early days, thanks to its founders who were all persons of import in Turkey, Ak?am has enjoyed a degree of prestige in Turkey.
The newspaper was owned by the Çukurova Medya Group from 1997 to 2013. Before that, it was owned by media baron and veteran journalist — Mehmet Ali Il?cak. In 2013, it was sold to EthemSancak who, in 2017, sold it to Zeki Ye?ilda?'s media company — Türk Medya. Ye?ilda? also has multifarious businesses, including those in construction and food industries. As per Turkish writer HüseyinBesli's book 'Recep Tayyip Erdo?an, Bir LiderinDo?u?u', Ye?ilda?'s brother Hasan is said to have close ties with President Erdogan.
Former editors of the newspaper include the veteran Do?an Özgüden, who is revered in Turkey as a liberal and dedicated writer.
Ak?am is one of the top ten newspapers in Turkey and has a daily circulation of 3,713 copies. Former Istanbul University Faculty of Communication student — Mustafa Karto?lu — who has years of experience as a journalist in Turkey, is its current editor-in-chief in 2020.
Yeni Akit
With a total circulation of 53,000 in 2018, Yeni Akit is a pro-government newspaper that was founded in order to propagate pro-Islamic, fundamentalist, and hyper-religious news and stories. It's a daily newspaper that has often been accused of spreading hate messaging and fundamentalist propaganda through its columns.
Yeni Akit often carries anti-LGBTQIA, anti-semitic articles and news pieces, as well as, content that is against women and also anti-abortionist. Yeni Akit was founded as the successor to a former newspaper — Anadolu'daVakit — which was in publication from 2001 to 2010.
The paper has also caused controversy for alleged misreporting on important issues such as the Sivas Massacre and the Gezi Park Protests that took place in Turkey and are contentious issues in terms of the nation's politics. Yeni Akit acts as a media ally of the Erdogan government and has often been accused of being partisan and acting like the party's propagandist mouthpiece. Yeni Atik has also been criticized for its censure of women. In both its print and online editions, the newspaper blurs out images of women to hide "excessive" exposure of skin. Nevertheless, the newspaper continues to be popular among the country's readers.
Many columnists of repute, as well as, those who are known for making controversial statements contribute to the newspaper, including voices like Abdurrahman Dilipak, Ali ?hsan Karahasano?lu, Abdullah Büyük, Hasan Aksay, and As?mYenihaber.
Milliyet
Milliyet is one of the oldest newspapers in Turkey. Founded in 1950 by Turkish publisher and journalist — Ali Naci Karacan — the operations of the newspaper were taken over by his son Encüment Karacan in 1955, following Ali's death. In time, Erdo?an Demirören came to own 25 percent of the paper's shares.
In 1979, Milliyet was sold to the journalist and writer Aydin Dogan, the former owner of Hurriyet newspaper. Demirören also sold his shares to Dogan. However, in 1998, the paper once again changed ownership after it was sold to Turkish businessman and construction magnate, Korkmaz Yi?it.
The new arrangement, nevertheless, lasted just a few weeks as, after that, Milliyet was once again sold back to Dogan. It was in May 2011 that the paper was again sold to a joint venture between the Demirören Group and the Karacan family, the original proprietors of the paper. However, the Karacan Group faced financial and legal issues, selling their share to its partner Demirören in February of the next year.
Milliyet is published in the broadsheet format. Editorially, one of the people to exercise the most influence on the newspaper was Abdi Ipekci, who was editor-in-chief of the paper till 1979. He played an important role in raising the standards of the paper's reportage.
The next editor-in-chief that managed to make a mark in the paper was Fikret Bila, who worked at Milliyet for 30 years. Since 2017, the post is held by Mete Belovac?kl?. As per available statistics, 3,37,000 copies of Milliyet were in circulation in 2001. However, since the 2016 crackdown, Milliyet, like all other leading newspapers, has been facing losses in terms of circulation and readership.
Sözcü
While most newspapers in Turkey are known for their staunch support of the AKP and President Erdogan, Sözcü is a popular Turkish newspaper that is famous for its critique of the ruling party's policies. Sözcü was founded in 2007 and is a relatively young newspaper.
However, it has a rich history with origins that date back to the former newspaper Gözcü, which was founded in 1996 but ceased publication in 2007. Gözcü was published by the anti-AKP Dogan Media Holdings.
Nevertheless, after its closure, the former employees of Gözcü resumed its publication, now under a new name. Sözcü is perhaps the most read and circulated newspaper in Turkey that publishes anti-AKP stories and news reportage. More importantly, it survived the infamous media crackdown of 2016.
Due to the tense political climate in Turkey, the paper has emerged as an important source of information and is popular among dissenters for its Kemalist or Attaturkist attitude toward the ruling dispensation and its detrimental sanctions on media. In 2018, there were 2,62,000 copies of the newspaper in circulation.
Since 2014, the Sözcü Group also owns and runs another daily newspaper called Korkusuz. It also publishes a subsidiary sports newspaper, called AMK, since 2012. Several influential columnists contribute to the newspaper, including Emin Çöla?an, Rahmi Turan, and U?ur Dündar.
MyNet
With advancing technology, news in Turkey has also taken on a new digital face. Heralding in the digital age are portals like MyNet that are offering readers and users with services like news and more. The portal also offers social networking services, email, astrology, sports news, audio streaming for listening to podcasts and radio shows, and gaming.
It was founded in 1999 by Emre Kurttepeli, who is also the founder of the My Net Group — one of the leading online media platforms in Turkey that boasts of over 26 million users. MyNet's approach to news coverage is slightly more modern than traditional Turkish newspapers and media outlets.
Yeni ?afak
Yeni ?afak is a conservative and hard lining daily newspaper in Turkey that was started in 1994. It was founded by none other than journalist and former deputy general of the ruling AKP — Mehmet Ocaktan — who was also the first editor of the paper. Initially, it was a neutral newspaper that gave space to both conservative, as well as liberal columnists and writers.
However, Yeni ?afak eventually sided with the ruling party after it was taken over by construction giant and business conglomerate — Albayrak Holding — which happens to be run by friends of President Erdogan, the then Mayor of Istanbul.
The newspaper earned the conservative tag after it fired several liberal journalists, including Kür?atBumin, under the editorship of chief ?brahim Karagül, and started hiring more religious hardliner columnists who were in support of the AKP's policies and governance.
Yeni ?afak has faced its fair share of controversies. In 2013, Noam Chomsky — renowned academic and linguist — accused the newspaper of misquoting him in an interview. In fact, the paper was accused of fabricating entire questions and answers. The paper later owned up to the error and removed the interview from its website.
Moreover, media watch organizations have accused the newspaper of spreading hate speech during the 2013-14 protests that took place in Turkey, as well as, of carrying columns by writers who have publicly expressed their views against abortion, LGBTQ+ rights, and anti-semitism.
Nevertheless, the newspaper manages to draw mass readership. As of 2016, 1,12,000 copies of Yeni ?afak were in circulation. Based out of Turkey, the publication reports on a variety of local and international issues of importance to Turkey.
Habertürk
In 1999, Ufuk Güldemir founded Habertürk TV, along with haberturk.com. In 2007, the Ciner Group acquired both of these ventures. Drawing from the image of Habertürk TV, the Ciner Media Group founded the Habertürk newspaper in 2009.
The venture has now grown to become one of the top ten most-read newspapers in Turkey with high circulation and readership. Thanks to Habertürk TV's popularity, the newspaper sold as many as 360,000 copies on its first day of publication.
One of the things that distinguish Habertürk from the rest of the leading newspapers in Turkey is the fact that, unlike the others that are mostly in broadsheet and standard Berliner formats, it is printed in the Berliner 14" × 20" format.
Apart from the main newspaper that comes out on a weekly basis, Habertürk also publishes supplements that span a variety of interests and genres of news. There is HT Ekonomi which caters specifically to news about the economy, business, and finance. HT Magazin+Bulmacais a magazine that is popular for its topical content and crossword puzzles — a favorite with readers.
HT ?stanbul, HT Ankara, and HT ?zmir cater to regional newsreaders, focusing more on local stories and reportage. On the weekends, the newspaper publishes supplements such as HT Cumartesion Saturday and HT Pazar on Sunday. It also publishes the HT Tarih for history fans and HT Kariyer for young professionals and students looking for human resource expertise, career guidance, and job opportunities.
Ciner Media is owned by billionaire Turgay Ciner — the mining, media, tourism, real estate, and energy mogul — who, in 2016, was listed at 1367 on Forbes billionaires' list. However, in 2018, Habertürk newspaper decided to shut down and go completely digital instead, with only its online version currently existing.
Sabah
Sabah is a reputed Turkish daily that was founded by Dinç Bilgin, in the city of Izmir, in April 1985. Bilgin was a media tycoon and had founded not just Sabah but several other newspapers such as Yeni Yuzyil, Takvim, and Fotomac. Sabah also has an English-language newspaper in Turkey, called Daily Sabah.
Sabah was first sold in 2001, only to be seized by the AKP government in 2007 over alleged non-disclosure of documents during the 2001 sale. The government handed the paper over to its banking arm — the Savings Deposit Insurance Fund of Turkey. After a brief stint under the government, Sabah was sold to the Turkuvaz Media Group. The latter comes under the business conglomerate Çal?k Holding. President Erdogan's son-in-law — Berat Albayrak — was the CEO of this company.
Critics at the time of the sale had alleged foul play, citing the fact that Çal?k Holding was the only company to bid for the paper and that the sale was partially funded by loans taken form state banks, including Halk Bank and Vakif Bank. Çal?k Holding's CEO — Ahmet Çal?k — is also reportedly one of Erdogan's close aides. The sale price of $1.1 billion was also the lowest that the company could have paid to acquire the newspaper.
Since then, the publication has been a bastion of pro-government and hyper-nationalist news. In 2013, the paper was taken over by the Kalyon Group, which is also its current owner in 2020. The present editor-in-chief is Erdal ?afak.
Apart from the main newspaper, Sabah also publishes an eight-page Sunday supplement called The New York Times International Weekly, since 2009. The supplement was made of a compilation of stories from The New York Times, translated from English to Turkish for the local readership. However, the partnership with NYT lasted only till 2014.
Sabah is one of the most read newspapers in Turkey, with a circulation of 306,000 in 2018.
Haberler
Haberler prides itself on being Turkey's most comprehensive news website. An internet news source, its website statistics states that it covers between 2,500 and 3,000 news pieces in a day. That is a huge number, far surpassing that of other news websites and newspapers which can cover anything between 100 to 300 articles of news in a day.
Haberler publishes in full compliance with the laws of the Republic of Turkey. It is an official subscriber to many of the famous news agencies in Turkey, including Anadolu Agency, making it a rich source of varying kinds of news. Combining a smart balance of artificial intelligence and word-based search, Haberler brings to its readers news from all around the world.
One can find local news as well as political news from all corners of the world. It also covers sports and economic news, along with updates on the latest happenings around the world. Haberler also uses innovative styles to set itself apart from other news portals. Its section called 'Last Minute' is an exciting spread of breaking news from around the world, arranged according to time of occurrence. The page refreshes itself every minute or so, providing truly piping hot news!
Haberler focuses on bringing unaltered, unmediated news to the people of Turkey, opting for a neutral editorial policy. Clarity and mimicry- free journalism are some of their other concerns. One can access their website in multiple languages including Turkish, English, Arabic and Russian.
NTV
NTV is a digital news portal that covers domestic political and economic news within Turkey as well as important international news stories. It is owned by the Dogus Publishing Group and includes NTV Sports, NTV Radio, and NTV Air, along with the NTV television channel.
Karar Haber
Karar Haber is an Istanbul-based news website, owned by the Karar Publishing Inc. The website features news from all sectors, including politics, international relations, sports, entertainment, and health.
It has a vibrant space for columns and opinions with many prolific and prestigious writers such as Yusuf Ziya Cömert, Y?ld?ray O?ur, ?brahim Kahveci Alaattin Karaca, and others. Unlike traditional Turkish newspapers that are greatly under the influence of the government, online news in Turkey is much more vibrant. When it comes to carrying copies that question the government, Karar Haber does not hesitate to push the boundaries and ask the tough ones.
Karar Haber has an active social media base with over 140 thousand followers on Twitter. It also has a newspaper called Karar Gazetisi.
Millî Gazette
Founded in 1973, Millî Gazette is one of the conservative newspapers of Turkey. Right from its inception, it has been closely associated with the fundamentalist National Salvation Party. Its slogan has been, since the very beginning, 'Morality and Spirituality First.'
Apart from its Turkish edition, the Millî Gazette is also published in Germany under the name—Millî Görü?—which is yet another religious fundamentalist institution formed after a religiopolitical movement. It is a popular conservative newspaper that, in 2011, had 51,000 copies in circulation. It is owned by Yeni Ne?riyat A.?.
The newspaper dedicates two pages to the economy, two pages to foreign news, two to sports and five to current news. The page dedicated to regional news contains popular and fresh news from all the regions of Turkey. Other issues covered in this newspaper's pages are social issues, thought/art/culture, family and life troubles and much more. Apart from world politics and news of international significance, Millî Gazette also publishes traffic information on its website, and prayer times, helping locals.
Cumhuriyet
Cumhuriyet, meaning 'The Republic' is one of the oldest Turkish dailies to be described as "up-market" in the country, and often covers anti-APK news that many of the mainstream sites fail to feature. It is known for its secular views and republican discourse, in discord with the ruling party's political narrative.
The "center-left" newspaper was founded by the secular Turkish journalist and former aide of the founder of the Turkish Republic — Atatürk — in the year 1924. In its initial years, the newspaper was closely associated with the Kemalist Republican People's Party. However, in the years that came, the party became more independent and pro-democracy than it used to be. In fact, in 2015, Cumhuriyet's stand against the increasing pressure of the AKP government was rewarded by the NGO 'Reporters Without Borders', with the Freedom of Press Prize. However, this led to the subsequent arrest of the newspaper's then editor-in-chief Can Dündar, and its Ankara representative, ErdemGül.
The paper was also in support of free markets, as well as, liberalism when it came to social values and rights. As opposed to the pro-government newspapers, Cumhuriyet's circulation in 2018 was not particularly high with the number of copies in circulation being 35,000. Nevertheless, the newspaper commands a niche audience and has its own particular readership.
InternetHaber
As part of a new wave of digital news outlets currently providing news to the millennial newsreaders in Turkey, InternetHaber started operating since 2000. It has been active in online news dissemination through its website and social media platforms.
The website derives most of its traffic from readers and consumers who come to the site for news and political coverage. While political articles work the best, the second chunk of traffic comes from stories about technology, followed by stories on arts and culture. Internet Haber also provides extensive political news coverage including policy news and analysis.
The portal also has a subsidiary — InternetSpor — which focuses on sports news from Turkey and around the world.
Takvim
Takvim was founded by Turkish journalist — Dinç Bilgin — in the year 1994. In 2008, this daily newspaper was taken over by the Turkuvaz Media Group, which is a part of Çal?k Holding. The acquisition was part of a $1.1 billion takeover of the Sabah-ATV Group.
Takvim became internationally famous in 2013 after the Turkey protests when it carried a "fake interview" of CNN journalist — Christiane Amanpour — who was shown to admit that CNN's coverage of the protests had been partisan and driven by personal interest. At the time, the paper had a total circulation of 110,000.
At present, Takvim's website features detailed sports news, election-related news, local news, world politics, and economic news. It also displays recipes, astrology, weather reports and game links. The Web TV option allows readers to enjoy their favorite news sections in video form.
Bursada Bugün
Bursada Bugün is an online news dissemination portal that features daily news updates about all the important occurrences in Turkey, as well as around the world. It is headquartered in Bursa and is one of the preferred websites when it comes to reading interesting updates about upcoming events alongside local news. It's a for-profit organization that was founded in February 2011.
It covers news in areas like sports, health, education, politics, finance, entertainment, and business. Apart from news stories, Bursada Bugün also provides audiences with live web tv, classifieds, radio shows, photo galleries, event updates, promotions, and offers. Due to the diversity of its coverage, Bursada Bugün's readership transverses the various lines of the social divide in the nation.
Vatan
The Turkish language newspaper — Vatan — was founded in 2002, by the Do?an Media Group, owned by the Do?an Media Group Conglomerate which came into being in 1997 to compile all of Do?an's properties into a unified empire.
In 2011, the Demirören Holding Group and the Karacan Group — both of which owned separate publications — took over the ownership of Vatan. In a few months from then, the paper was completely taken over by Demirören.
In 2011, 111,489 copies of Vatan were circulated in Turkey. At the time, it was the highest ever circulated newspaper in Turkey. Vatan's online portal is constantly updated with live news and developments from around the world. It is also one of the most popular news websites in Turkey.
The website features news stories on politics, finance, health, and a wide range of other topics. The reportage is pro-government as Demirören is an AKP supporter and aide of President Erdogan.
Posta
Posta is a tabloid-style daily newspaper that is counted among the most read newspapers in Turkey. It was founded in 1995 and is currently owned by Dogan Media Holding which is also the former owner and founder of Hurriyet. Dogan represents the former regime before the current AKP which has been hard on Dogan Holdings.
In 2018, the pro-government business conglomerate Demirören Holding took over Dogan Holdings, along with the ownership of Posta. The newspaper's appeal lies in its tabloid-style of news and reporting, mirroring the likes of Daily Mail and New York Daily News from the United Kingdom and the United States respectively.
Its mass appeal lies in its selection of saucy, controversial, gossipy, and humourous content. In fact, judging by available circulation data, as many as 516,000 people were reading Posta in 2009.
In 2019, Posta was in the news after it fired an employee — Prof. Dr. TeomanCemKad?o?lu — who worked as a columnist for Posta. Kad?o?lu, who is a lecturer at Medical School at Istanbul University's Department of Urology, had tweeted about the falling readership of newspapers and how it could be a result of social media and digital news.
BirGün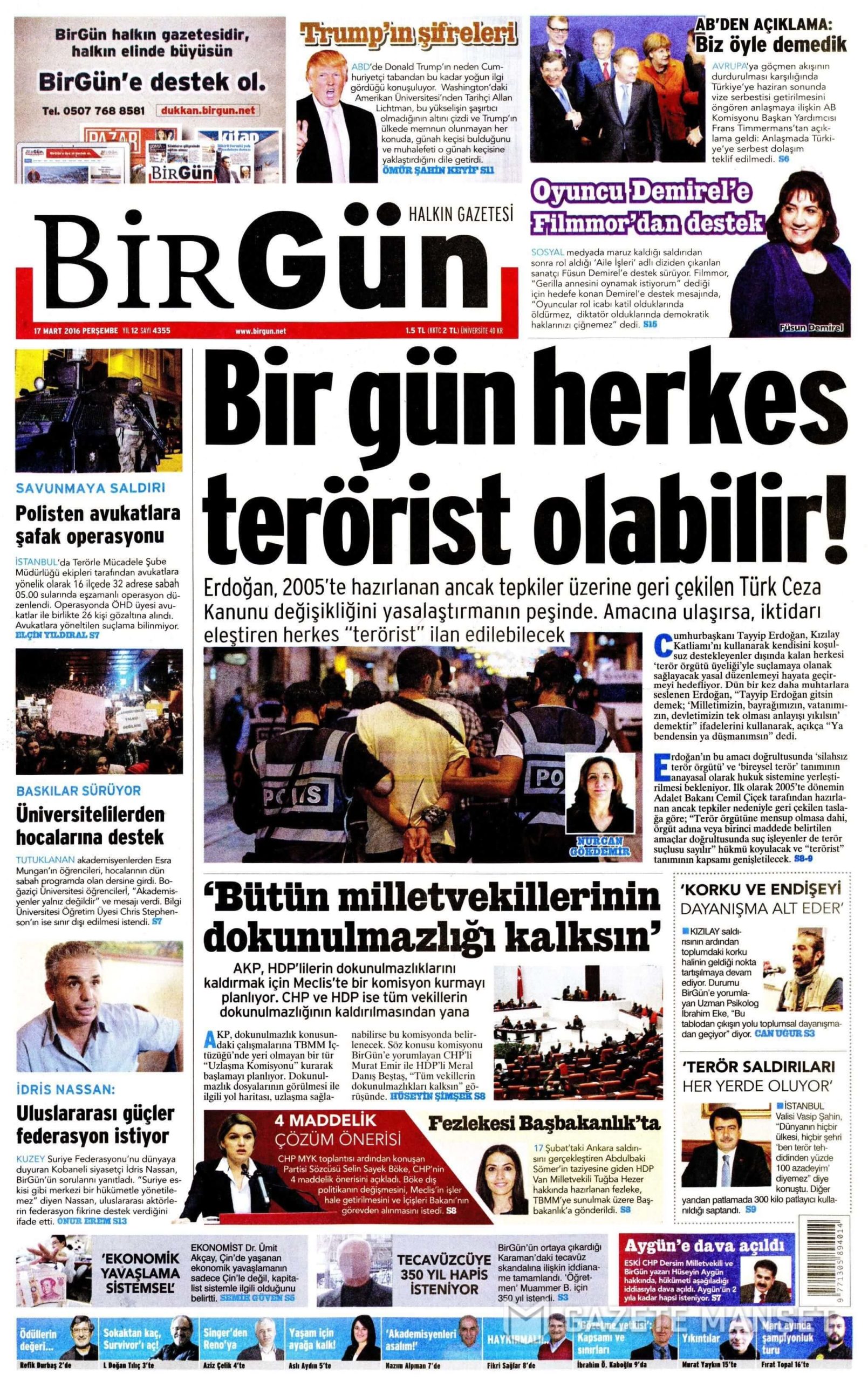 BirGün is a Turkish daily that is known for its left-wing views and anti-AKP reportage. It was founded by a group of Turkish intellectuals in 2004. One of the most interesting characteristics of the newspaper is that, unlike most of the mainstream newspapers in Turkey, BirGün is not owned by a business conglomerate but by independent intellectuals.
BirGün gives space to left-wing and anti-AKP columnists and writers, as well as, to the supporters of the Freedom and Solidarity Party (ÖDP), a socialist party which is also a part of the Party of the European Left. BirGün's website actively covers all genres of news and often carries opinions and articles that may be considered problematic by the Turkish government.
Yeniça?
Established in 2002, Yeniça? has the reputation of being a nationalist Turkish newspaper that is in favor of AKP and President Erdogan. Yeniça? often goes viral with its controversial views on issues and persons that highlight the drawbacks of the AKP government.
In 2008, for instance, the newspaper was criticized for airing controversial views on Do?an Özgüden, who co-founded the Infor-Turk. Özgüden had been awarded the Turkish Journalists' Association Award and Yeniça? went all out in its criticism for the act, describing the journalist and former editor of Ak?am as an "Armenian defender" who was guilty to having 50 lawsuits filed against him.
Star Gazetesi (Star)
Star Gazetesi or (Star) is another of the high circulation Turkish dailies that are currently popular in the country. The newspaper was established by the Star Media Group in 1999 and is based on the image and branding of the Star TV channel. Star's parent company was the Uzan Group owned by politician and businessman — CemUzan — who is known for bringing the first private television channel to Turkey.
In 2004, the Turkish government confiscated the paper, as well as, certain other assets of the Uzan Group and gave the paper to the state-run TMSF. In 2006, the Star was eventually sold to Ali ÖzmenSafa, when Hasan Dogan, Safe, and EthemSancak also became involved with the newspaper. However, in the end, only Sancak remained the sole owner. In 2009-10, former Welfare Party MP and businessman — TevhitKarakaya and FettahTamince — took over the Star Media Group, and once again, acquired ownership of Star newspaper.
The Star is known for its pro-government stance and includes prominent columnists such as journalist ?amilTayyar, who is also a deputy at the AKP and an Erdogan loyalist. In May 2019, Star Gazetesi's circulation was at 1,34,000.
Surviving the 2016 government crackdown, the paper was still in circulation until the end of 2019. However, from 2020 onward, the Star Media Group has decided to discontinue the print edition of the newspaper, transferring it instead to the online platform.
Türkiye
Türkiye is a Turkish daily that has been in circulation since 1970. It was started by businessman and founder of ?hlas Gazetecilik — EnverÖren — who later moved to Italy after winning a NATO scholarship. Ören is also the awardee of an honorary degree of Doctor of Science by the Konya-based Selçuk University.
Initially named 'Hakikat', the paper got its present name in 1972. Over the years, the newspaper has steadily increased its circulation and fan base, reaching 119,000 in 1985 and 300,000 in 1989.
In 2010, 33 percent of the company's shares appeared on the Istanbul Stock Exchange, while the rest stayed with Ihlas Holding. The paper currently reports on economic issues, political and policy agenda, current affairs, sports, and world news. The newspaper also covers health and lifestyle stories. Its website has a "magazine" section which also features in-depth stories about a variety of socio-cultural phenomena.
Diken
Keeping up with the times, several new media websites that deliver news to readers through the internet and digital portals have come up in Turkey. One such online news website is Diken, which was founded by Sedat Simavi's grandson — Harun Simavi — in 2014.
Being a relatively new newspaper, Diken's mission, according to Simavi, is to be a "thorn in the media" which he claimed was always trying to depict Turkey as a "rose garden". Diken is an important counterpart to all the state-controlled, right-wing media houses and business conglomerates in Turkey that often hamper press freedom and journalistic ethics in the country.
The paper is edited by ErdalGüven and EmrahTemizkan. Simavi's grandfather—Sedat—was a veteran journalist and the founder of Hurriyet, one of the most read newspapers in Turkey.
Milat Gazetesi
This is a news and media website based in Turkey. It features news and general stories across a wide variety of categories including politics, economy, religion and family, and sports. As a news portal it features latest news and current updates of various incidents across the world.
It displays currency conversion rates on the website, featuring the dollar, euro and bist. It also displays the current weather conditions of Istanbul for its readers.
Milat has a Röportaj section which brings to readers interesting interviews of various important personages. The section also has articles which discuss many crucial events going on in the country and the world. Milat has a photo and video gallery on its website too.
This internet news source contains information about health, technology, cars, education, art and culture. It even has a separate section where trends in socio-political affairs are discussed.
Dünya
Dünya is a popular Turkish newspaper that was founded by NezihDemirkent in 1981. In 2010, the newspaper had a total circulation of 54,826. Demirkant was also the paper's editor-in-chief until his death. Although Dünya's news website, as well as, newspaper covers news from across categories, its primary focus is on covering and reporting on news from the business and finance world. Columnists such as TevfikGüngör and Osman Arolat write for the newspaper. Dünya has its headquarters in Istanbul.
Sol
Literally meaning 'Left', Sol is a left-leaning Turkish newspaper known for its socialist bend in reporting and its anti-government stance on several issues. It was founded in 2012. Apart from the main paper, Sol also publishes a variety of supplements on a number of issues. These include SoLGüncel which focuses on daily news, Sol Kitap and Sol Kültür which cover news and stories related to literature including book reviews, as well as, cultural stories to cover event updates.
BilimSol is published for Science enthusiasts. TercümeOdas? or ?nterpretation Room and SoLBak?? provide readers with differing views, analysis, columns, and opinions about a variety of socio-economic and political issues. The publication also releases additional Sunday supplements. The paper is owned by Erkan Y?ld?z, while Kemal Okuyan is the editor-in-chief.
Ayd?nl?k
Ayd?nl?k was started in 1921 by the Patriotic Party or, as it was known in Turkish — the Vatan Partisi. The newspaper functioned as the mouthpiece nationalist, left-wing party. Since then, it has been shut down and reopened several times, the last time being in 2011.
The weekly newspaper was the first socialist news portal in what was then the Ottoman Empire. In its early years, it was also the close aide of the Communist Party of Turkey. Currently (in 2020), MehmoutSabunku is the editor-in-chief of the paper since 2014, as well as, the publication's owner. In 2013, 61,000 copies of Ayd?nl?k were being circulated. The paper has also had its fair share of controversies and has often been accused of alleged distortion of the news.
Yeni As?r
Yeni Asir dates back to 1895 when it was first published by Arif Bilgin, the founder of the newspaper. After Arif's death, the newspaper was handed over to his son ?evket Bilgin. The newspaper's slogan is the "most established newspaper in Turkey".
After his death, the newspaper passed on to the hands of Dinç Bilgin. In 2017, 52,425 copies of Yeni Asir were in circulation. In 1998, the newspaper began its online operations, and today, Yeni Asir's website has a substantial, dedicated viewership. The newspaper is currently owned by the Turkuvaz Media Group.
Haberport
Founded in 2014, the mission of this internet news portal is to bring true and neutral news to all, globally. Its focus on accuracy and impartial editorial philosophy makes it a reliable news source, with a 20k+ follower count on social media. Haberport puts prime importance on the quality of news, and believes in people's right to have access to free news.
Various news agencies are connected to this portal, allowing it to offer its readership agenda from different political points of view. Instead of focusing on one particular area, it is styled as a general interest news source, available in Turkish, covering anything between politics, economic, sports, music, literature, business and even magazines. Reader-centered, it invites comments and critique from readers, in order to be able to provide content that is pleasing to everyone.
On its website, Haberport has separate sections dedicated to the above mentioned categories, and also some more, including health, lifestyle, and education. Interesting new styles are used to present news. Breaking news is constantly displayed at the side of the web page, in timeline form. All the pieces of breaking news are also tagged and categorized according to the various sections. Bist, gold, dollar, sterling and euro current conversion rates are also continually updated on the website. Sports news in the form of team names and match scores are also tabulated on one side of the website.
Apart from these, Haberport conducts surveys on various popular and relevant topics, which the readers can participate in, and displays politically pertinent cartoons as well. A separate section also categorizes popular news, so that readers can see at a glance what Turkey is reading on any given day.
Evrensel
Evrensel is yet another socialist Turkish newspaper. It was founded in 1995 and is considered to be the best source of information about the various trade unions that exist in Turkey. Though the newspaper isn't linked to any major controversies, the publication was in the news following the detention and eventual murder of one of its employees. Journalist Metin Göktepe was killed while he was on duty, reporting for the paper at the age of 27. The paper is currently (2020) owned by Mehmet Arif Ko?ar.
Özgür Kocaeli
Özgür Kocaeli is a Turkish daily and online news portal headquartered in Kocaeli, Turkey. It was founded in 1991 and specializes in local news and reports on government agenda and policies, public order, and sports. The publication is a mix of local as well as international news. It is popular on social media with over 8,000 followers on Twitter.
Güne?
Güne?, which literally means 'sun' in Turkish, is a news media website owned by EthemSancak. Initially, it was the corresponding website of the newspaper Güne? which was owned by the Kozano?lu?Çavu?o?lu Group in 1982 and later sold to Asil Nadir. In 2013, the newspaper had a total circulation of 91,000.
However, in 2019, the newspaper ceased to be a standalone paper and became a sister concern of Ak?am, a mainstream newspaper also owned by Sancak. Nevertheless, the Güne? website is still active and widely read for news on politics, economy, culture and government agenda.
Kocaeli Gazetesi
Kocaeli Gazetesi is a local Turkish daily newspaper and news website based out of Kocaeli in Turkey. It was founded in 1975. It is a great source of information about a variety of local events, as well as, local politics and socio-cultural phenomena. The publication covers topics on politics, economics, health, entertainment, and a wide range of other categories.
Yurt Gazetesi
Yurt Gazetesi was founded in 2012 and is a socialist newspaper in Turkey. It runs under the editorship of Ali Avcu and Serdar Yüce. Unlike most mainstream Turkish newspapers, this publication isn't owned by a conglomerate that is pro-government or run by businessmen or former politicians. Indeed, newspapers like Yurt Gazetesi have kept Turkish media from becoming completely lopsided by providing substantial objections and analyses of issues, government policies, and matters of international and legal affairs. In 2014, it won the Human Rights Democracy Peace and Solidarity Award, conferred by the Social Democracy Foundation.
Yeni Asya
Based in Istanbul, Turkey, Yeni Asya is a Turkish daily newspaper. Published in Berliner format, it was founded in 1970, and has quite a good circulation till date. Though the publication has changed names multiple times over the years, at present it is published under the name of Yeni Asya.
The program and goal of the paper, as described by one of its writers, Ali Fer?ado?lu, is to explain the Quran and Sunnah, and understand the Risale-i Nur. This statement points towards the Islamic orientations of the publication. Though it is a printed publication, it also has an e-newspaper version. At present, the Yeni Asya website features issues of its various magazines, electronic copies of the Risale-i Nur and other religious texts. Yeni Asya also displays news videos on its website, ranging across themes like religion, travel, music, interviews, television and more.
The paper publishes in various sections, including regional political news and agenda, world events, sports and business updates, family and health, science and technology and so on. It also has a separate 'writers' sections, which features topical articles written by people from various specializations.
Malatya Haber?
Malatya Haber is a local Turkish news website that focuses on reporting from the East Anatolian region of Turkey, specifically the city of Malatya. The news website is a popular source of local and regional news pertaining to the region. Additionally, it also covers stories about national politics, international relations, sports, arts and culture, entertainment, health, and lifestyle.
Recently, it carried extensive news coverage after an earthquake in Malatya caused considerable damage to life and property in 2020.
Yeni Alanya
Yeni Alanya is a local daily newspaper published from the city of Alanya in Turkey. It was established in 1968 by Arikan Yilmaz Dim, and was the flagship publication of the Dim Medya A.?. In 1999, its website was launched. The website enjoys huge popularity and as recent as March 2020, was the most visited news site in the Mediterranean region.
The newspaper strictly follows a set of basic principles adopted by the Press Council of Turkey, making it a conscientious and sensitive publication. Yeni Alanya also includes within it the local news and lifestyle magazine called Orange. While the newspaper publishes a lot of local Alanya news, including real estate, local politics and agenda, and news stories of social relevance, the paper also publishes some amount of international news.
The website features helpful city guides for travelers, and even has a traffic status page to help out locals. Some of the news and reporting categories it publishes are tourism, public order, life, world news, media information, and much more.
B. Business Newspapers
At the time of writing, the number of dedicated business newspapers, either in Turkish or English, is quite low in Turkey. Most of the business news is covered in separate segments in the aforementioned general-interest newspapers and websites. For instance, HT Ekonomi — a popular source of business news in Turkey — is a subsidiary of Habertürk.
Ekonomi Türkiye
A popular source of business news in Turkey, Ekonomi Türkiye is the business news section of the popular Turkish-daily – Türkiye Gazetesi.It is commonly known as Ekonomi. It features finance and economic news from around the world. The Ekonomi Türkiye section concentrates solely on business related stories from within the country, including information about stock markets, trade, and finance.
C. Sports Newspapers
Sports, especially football, is an integral part of Turkish culture. Naturally, there is immense enthusiasm with regard to anything sport-related. Catering to the high demand for sports news, Turkey has several national, regional, as well as local sports newspapers. As usual, most of these are also published in Turkish and some of them have corresponding websites and e-papers.
Sporx
Started in 2005, Sporx is a Turkish sports news portal. It focuses on sports from within Turkey, as well as events from the international sports community. The Turkish Sports Writers Association conferred Sporx the "Best News" Award — the most prestigious distinction for sports news coverage in Turkey — for three consecutive years (2013-15).
The Sporx Sports News Network consists of a variety of products including five web-mobile portals and 17 mobile apps for android, iOS, Windows, and iPad. Its online presence is also substantial with seven Twitter accounts, two Instagram accounts, and five Facebook accounts.
Fanatik
Fanatik is a Turkish sports newspaper based out of Istanbul. It was launched in 1995 to meet the increasing demand for sports newspapers in Turkey at that time. The newspaper was later acquired by the Demirören Group when it acquired a number of assets owned by the Dogan Media Group.
In 2018, as many as 82,730 copies of Fanatik were in circulation. However, this was after the steep fall in its circulation from 270,517 copies in 1996. Apart from the newspaper, Fanatik has a website with the same name, as well as a Web-TV. From 1995 onward, the paper was circulated in Austria and Germany as well. However, in 2010, its circulation in Germany was shut down. Fanatik has been a part of the European Sports Magazines since 2000.
Fotomac
Fotomac is a Turkish sports newspaper. It was founded by journalist Dinç Bilgin in 1991. It also had a sister newspaper called Pas which was founded in 2005. However, due to lack of performance, the newspaper was merged with the primary Fotomac and called Pas Fotomac.
Fotomac was later merged with the Taraftar newspaper, also owned by Bilgin. It was named Tarafdar Fotomac, only to be renamed Fotomac once again. Despite its official name being Fotomac, the paper's logo reads "Rust Fotomac".
However, due to Bilgin's mounting debt, Fotomac, along with Bilgin's other assets, was seized by the government. The state-run Savings Deposit Insurance Fund ran the newspaper until its sale in 2007 to the Ciner Group.
The paper's current editors (in 2020) are Saban Ozden and Hakan Erol. Eventually, Çal?k Holding and some other companies have acquired ownership of the publication. Çal?k Holding acquired the paper when it won the Sabah-ATV deal and took over several media assets from other conglomerates.
NTVSpor
NTV Spor is the sports wing of the NTV television network that was launched in 2008. It is dedicated to sports news and coverage. Apart from the channel, NTV Spor also has a vibrant online presence, thanks to its news website NTVSport.net.
NTVSport.net provides widespread coverage on a variety of sporting events and news. In fact, the NTV channel was closed in 2018 and replaced by DMAX., owned by Discovery Communications. The latter bought the channel from Dogan Media Holdings. Nevertheless, NTVSpor.net continues its online operations and provides unbiased sports news to its audiences.
Spor3
Spor3 is the sports news website of the popular Haber3 Publishing Group, which has multiple other news and media websites to its name. A popular media group, with over 13k followers, Haber3 has rich content appealing to internet users with various interests. It is one of the independent news sources present in Turkey today.
In fact, Haber3 takes pride in having no organization or government machinery backing it or funding it. Founded in 2001, the Media Group also has many awards to its name. Some of these are Ekonomi Gazetecileri Derne?i Ödülü (Economy Journalists' Association Award), AKA Koleji En ?yi Ba??ms?z Haber Sitesi (AKA College Best Independent News Site award), among others.
The Spor3 website contains links to the Haber3 news website, where readers can take a quick look at the headlines and the popular news items of the day. Spor3 features news from across a variety of sports, including football, basketball, volleyball, tennis and motor sports. It has a photo gallery and a video archive which boasts of a large collection of sports themed news media. The site displays current match scores, as well as popular and often sensational news about sports personas in their magazine section.
Aç?k Mert Korkusuz (AMK)
Aç?k Mert Korkusuz, often abbreviated to AMK, is a Turkish sports daily. It was founded in 2012 and covers news about various sports like basketball, football, volleyball, and others. However, given football's popularity in Turkey, the publication focuses on footballing news.
The newspaper faced some controversy in the past due to its name. While 'Aç?k Mert Korkusuz' literally translates to 'Open, Valiant and Fearless', the abbreviation 'AMK' also symbolizes a popular profanity in Turkish.

D. Turkish Press Agencies
Press Agencies or News Agencies play a very crucial role in any media industry. The holistic process of collecting news is very time and resource-intensive, making it unaffordable for most newspapers or portals. Consequently, these publications rely upon the Press Agencies, who are responsible for the collection and distribution of news, in return for subscriptions by the publishers. Usually, every nation has only one or two press agencies, apart from the international press agencies such as Reuters.
Anadolu Agency
Anadolu Agency is a state-run news agency in Turkey. Commonly known by its abbreviation AA, this international news agency service is headquartered in Ankara. It was founded by Turkish writer Halide Edipin and journalist Yunus Nadi Abal?o?lu in 1920, at the time of the Turkish War of Independence and is deeply entrenched in both past and present political scenarios of Turkey.
The founding duo envisioned AA as a pro-government news agency. In fact, the Turkish Grand National Assembly was convened for the first time just 17 days after the first publication of AA. Currently (in 2020), ?enol Kazanc? is AA's CEO.
Conclusion
Concurrent with drastic changes in political regimes, Turkish media has also evolved in phases. One of the first shifts in the country's media landscape came in the 80s, after the country adopted the free-market economy, causing massive upheaval in media ownership. The second major change came in the 1990s when the ruling AKP (Justice and Development Party) came to power and completely reshuffled the media landscape.
Presently, most of the top newspapers in the country are owned by conglomerates that have significant interests in a variety of fields that affect the Turkish economy and are close to the ruling AKP. As far as ownership is concerned, despite a vibrant independent and local reporting scene, organizations like Turkey Demirören Groups, Kalyon Group, and Turk Medya own the top papers.
Turkey ranks at 155th out of 180 countries in RSF's 2017 World Press Freedom Index. Nevertheless, newspaper readership in Turkey remains high. The need for non-partisan journalism is eminent and Turkish readers can help the media maintain sanctity by following news from correct sources and by not disseminating fake news.
While the media industry continues its splendid growth, we at Mediabuzz are hard at work, trying to bring to you an encyclopaedic coverage of all possible news sources. Our team consists of dedicated and professional writers, who have a talent for discovering trends within journalism.
We are always glad to receive suggestions that help us to make lists more exhaustive. To help us out, please answer our questions in the comment section!
What are the five best Turkish newspapers, in your opinion, and why?
Have we skipped any important or deserving news source in our list? Let us know about them.
What are your views on the political biases of the various Turkish newspapers in this list?
Which Turkish newspapers do you think are the most neutral?
What are some great Turkish newspapers that focus on sports, business and entertainment news? Have we got them all in this list?
Did any of these newspapers interest you? Tell us why.
Did you know about any of these news sources beforehand? Are you a regular reader of any of these?
Is there any crucial information we have missed in our list?
Important Note:
We at Mediabuzz are always looking for people with experience in media/journalism/mass communication fields, to join us in creating better articles. If you work or have worked in one of these organizations and have any suggestions regarding the information presented herein, we would love to have your input to improve our content.
We are also eager to connect with companies or people who would like to sponsor this article. Contributions and sponsorships allow us to increase the reach of our research and information hunt regarding the Turkish media.
For any queries or more details regarding the above, don't hesitate to contact us at mediabuzz.org@gmail.com.