Star Tribune, a major newspaper based in the U.S state of Minnesota, is considered a credible source of information. The local newspaper has circulation across the Minneapolis–Saint Paul metropolitan area. Though most of the time it keeps a neutral stance, a slight left inclination of Star Tribune can be seen through its editorial and opinion pieces. Star Tribune is a highly reliable newspaper as we couldn't find any fake news published by the local daily.
To analyse its credibility and biases, we referred to different reliable sources, research materials and fact checking websites. Some of the factors taken into consideration are types of headlines, usage of adjectives and controversies among others.
Star Tribune Media Bias Summary
Media Bias Result: Left-Center
Star Tribune has a left-center bias and it can be ascertained through its editorials. Apart from that, it largely remains neutral as far as general news reporting is considered.
*Image for reference only
Star Tribune Factual Reporting Summary
Factual Reporting Result: Highly Reliable
Star Tribune rates high in fact checking scales. It also makes proper use of sources such as the New York Times and the Associated Press. At the same time, it is not reluctant to publish a report on any internal controversy. Hence, all these points make Star Tribune a quite reliable source of information.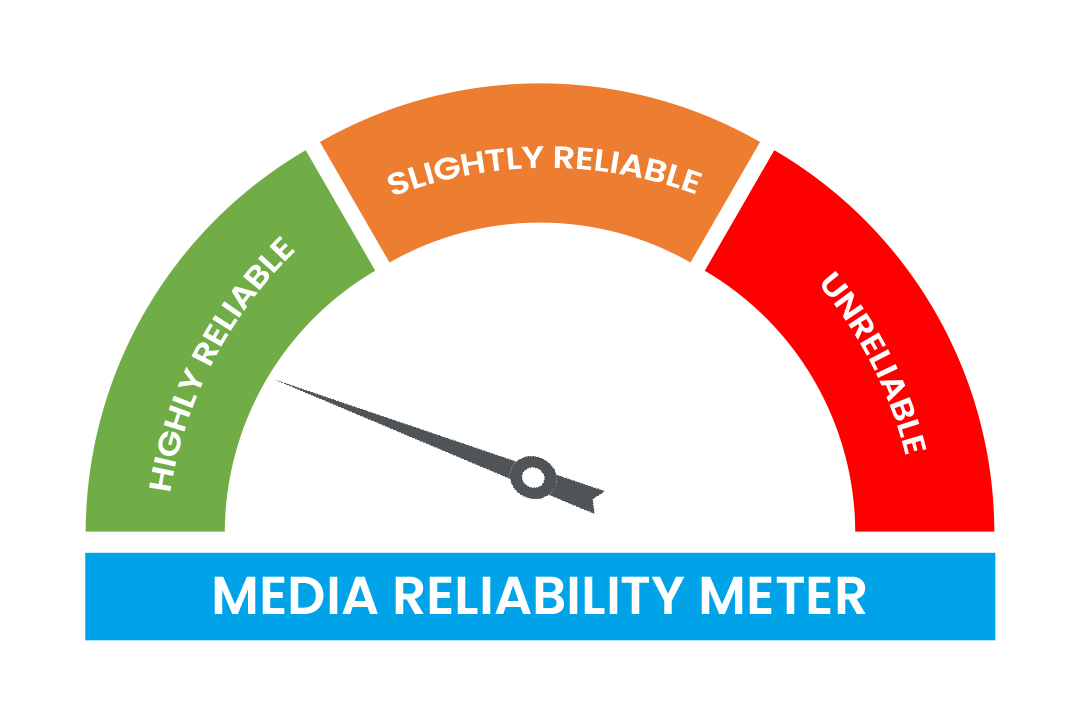 *Image for reference only
A. Star Tribune Media Bias Analysis
Star Tribune covers a wide range of topics such as sports, local, business, housing and jobs among others. It also publishes op-eds by prominent journalists and experts. The tone of its stories and headlines do not promote any ideology unlike its editorials that sometimes portray its left inclination. Star Tribune keeps its biases minimal.
1. Analysis Of Star Tribune's Headlines
The headlines of Star Tribune generally have the required neutral tone. Having said that, this is not the case with its editorials, though it is fairly balanced most of the time. Some of the examples have been cited below:
I. 'Trump-itis,' a media plague
The article written by D.J. Tice, an opinion columnist for Star Tribune, was published on November 17, 2019. The opinion piece states, "Many presidents have had stormy relations with the press. None has begun to equal Hurricane Donald, whose crude and unending denunciations of the "fake news" media may have had some effect on public perceptions." It clearly slams former President Donald Trump, a Republican.
II. Rash Report: A pointed report on the Trump administration and the media
Another anti-Trump opinion piece was published on April 17, 2020 by John Rash. The article cited a 30-page research report by Leonard Downie Jr., a former executive editor of the Washington Post. "The Trump administration has stepped up prosecutions of news sources, interfered in the business of news owners, harassed journalists crossing U.S. borders, and empowered foreign leaders to restrict their own media. But Trump's most effective ploy has been to destroy the credibility of the press, dangerously undermining truth and consensus even as the COVID-19 pandemic threatens to kill thousands of Americans," a paragraph stated.
III. Acosta has no constitutional right to be a grandstanding jerk
The opinion piece was written by Jay Ambrose and published on November 15, 2018. It slammed the CNN White House correspondent for a heated exchange with the then-President Donald Trump. "Freedom of the press – that's what CNN's Jim Acosta is all about, right? Wrong. What he's about is lecturing the president, then trying to debate him, refusing to abide by common rules of a presidential press conference and then making it clear to a young intern that he's the boss and she's nobody," read the introductory paragraph.
2. Star Tribune's Endorsement Of Presidential Candidates
Star Tribune has always been vocal about its endorsement of a presidential candidate or a representative.
I. No Republican Endorsement
Since 1984, Star Tribune has not endorsed any Republican Presidential candidate. It supported Joe Biden in 2020 and Hillary Clinton in the 2016 presidential elections. On October 30, 2020, Star Tribune published an editorial with the title: "Editorial Board endorsement: Biden can reunite, restart America".
II. Local Elections
On August 5, 2020, Star Tribune published an editorial with the headline: "Fifth District endorsement: Melton-Meaux, for integrity and progress". In the piece, the newspaper showed its support for Antone Melton-Meaux, the candidate for Congress in Minnesota's Fifth Congressional District against Rep. Ilhan Omar. However, Omar won the Democratic nomination.
3. Star Tribune: Controversies/Allegations
I. Pay Cuts
Poynter.org published an article on May 16, 2021, stating that Star Tribune employees had to undergo pay cuts and deductions in other benefits after it was sold to Avista Capital Partner. "One publisher was legally barred from his job before resigning," it further stated. The header of the article read: "At the Minneapolis Star Tribune, a newsroom that's gone from surviving to thriving"
II. Personal Attack
Ilhan Abdullahi Omar, a Somali-American U.S. Representative for Minnesota's 5th congressional district since 2019, slammed a Minneapolis Star Tribune report that stated that she should be transparent regarding her campaign funds. "Omar must say more about allegations," read the headline of the editorial published on October 12, 2018. "We recognize how these folks are deeply invested in stopping a progressive, Black, Muslim, hijab-wearing, immigrant woman. We know these people are part of systems that have historically been disturbingly motivated to silence, discredit and dehumanize influencers who threaten the establishment," Omar responded.
III. Unethical Content Sharing
A controversy triggered when Star Tribune contacted Minnesota Daily's editor-in-chief to share the content. Minnpost published a story on May 6, 2009, regarding Minnesota Daily's suspended editor-in-chief and co-publisher Vadim Lavrusik, who unethically shared the content with Star Tribune. Written by David Brauer, the report states that Lavrusik "was a journalist on classroom assignment" with Star Tribune and was tweeting updates regarding when the news of students rioting in Dinkytown broke.
"A Star Tribune staffer saw the tweets, and knowing Lavrusik worked at that paper, asked an editor to contact the student for more information. Lavrusik shared details; as an unasked-for reward, the editor gave him a byline, Strib managing editor Rene Sanchez says," it further mentions. Later, Star Tribune credited the story to the Daily's staff.
IV. Allegations Against Publisher
In 2007, the publisher of Star Tribune faced allegations by his former employer, St. Paul Pioneer Press that he unethically shared confidential information. Star Tribune and its publisher Par Ridder were sued by MediaNews Group Inc., the owner of Pioneer Press. According to the AP story carried by mprnews.com on April 17, 2007, there were allegations that "Ridder e-mailed more than a dozen sensitive Pioneer Press spreadsheets and allowed the contents of his Pioneer Press laptop computer to be copied after he was named publisher and CEO of the Star Tribune". "Star Tribune union seeks inquiry of allegations against publisher," read the headline of the report.
V. Fake News Allegations
Star Tribune was criticised by Steven L. Belton, interim president of the Minneapolis Urban League for publishing false stories about MUL. In an opinion piece published by Twin Cities Daily Planet on May 13, 2015, Steven wrote, "Recent stories published by the Star Tribune about the MUL ("Did Urban League get paid twice?" April 13, and subsequent stories) have created a false specter of financial impropriety, have distorted the organization's history in delivery of contracted services and, as a result, have undermined the reputation of a long-standing community organization".
The piece ended by stating, "the MUL's reputation has been damaged by the misleading innuendo reported by the Star Tribune, which has harmed our ability to serve our students and program participants. They and the Star Tribune's readers deserve better".
Public Opinion About Star Tribune
Reddit users have mixed opinions about Star Tribune. However, most of them agree that it is slightly left but does not propagate an agenda. Reddit users even opine that Star Tribune was better earlier. "They're pretty good. Certainly left, but not so far as to be inaccurate or misleading for an agenda. I think politico grade is "slightly left". I personally like it and like the variety of stories they cover," wrote a user. "I consider it a left-leaning newspaper. The quality was better years ago," wrote another user.
B. Star Tribune Factual Reporting Analysis
There have been no instances of fake or misleading news published by Star Tribune. It has always published a balanced reportage without any verdict. For example, the Star Tribune's investigation regarding Ilhan Omar's "marriage" with her brother was called the most detailed, evidence-based reporting by Tampa Bay Times. Star Tribune clearly stated in its June 23 report that it "could neither conclusively confirm nor rebut the allegation that he is Omar's sibling."
Star Tribune has also maintained transparency with its readers. After its film critic was ousted for plagiarism, Star Tribune maintained the transparency by publishing a full-fledged report on the matter. One of the examples is that the report was published after its film critic Colin Covert resigned over an ethics breach. It stated that over the past decade, Collin, who has been associated with the newspaper for the past 30 years, has "written some film reviews using the same unique language of writers for other publications, without attribution". The report published on December 10, 2018, further mentioned that Collin's reviews "contained unique phrases used previously by writers for the New York Times, Paste Magazine, vulture.com, the Wall Street Journal, IndieWire and Hollywood Reporter".
C. Star Tribune Bias Reliability Ratings by Fact-Checking Websites
Star Tribune has been rated by prominent fact-checking websites like Ad Fontes Media and Media Bias/Fact Check. Below, we have summarised what these prominent sites have to say about Minnesota newspapers.
1. Media Bias/Fact Check
Media Bias/Fact Check rates Star Tribune left-center biased because of its editorials that moderately support left ideology. However, its news are generally factual and properly sourced. Star Tribune also passed the fact check conducted by the website.
2. Ad Fontes Media
Ad Fontes Media evaluated a few articles of Star Tribune and rated the newspaper "in the middle category of bias and as most reliable in terms of reliability". The articles were reviewed by "at least three analysts: one conservative, one liberal and one moderate".
D. Brief Introduction of Star Tribune
History
Star Tribune is a daily newspaper published in the broadsheet format. The newspaper is circulated across Minneapolis–Saint Paul metropolitan area of the Minnesota state. It was founded on May 25, 1867, as Minneapolis Tribune. In 1982, it was merged with its competing newspaper Star and started publishing as Star and Tribune. In 1987, it was renamed Star Tribune. After going through a tumultuous period, in 2009, the newspaper filed for bankruptcy protection. Star Tribune launched its website in 1996. In 2014, it was acquired by a local billionaire, Glen Taylor. It has won six Pulitzer Prizes so far.
Ownership
Glen Taylor is a former Republican member of the Minnesota Senate. When asked if he is a bedrock republican, Taylor replied, "I am a Republican. I don't know about bedrock". He said that Star Tribune will "have better balance" after the change in ownership. Replying to the question, whether the liberal Star Tribune will change under his ownership, Taylor said, "I think the answer is yes. But I think the answer is yes whether I buy it or not. Everything changes, and some people are going to say, 'Well it is, because you bought it, that it changed'."
E. Star Tribune Bias And Factual Reporting Summary
After evaluating several reports, research papers and fact-checking websites, Mediabuzz concludes that Star Tribune moderately favours left in its editorials and thus has a left-center bias. However, their general news stories do not attempt to push for an agenda. The left-center bias of the newspaper can also be ascertained as it openly endorsed Democratic candidate Joe Biden in the US presidential elections. Despite being owned by a former Republican, it has never hesitated to carry anti-Trump pieces when necessary. We rate Star Tribune as highly reliable because of the negligible failed fact check and its adequate use of sources. This local daily does not publish reports that are half-baked.
Reference links
https://www.startribune.com/fifth-district-endorsement-melton-meaux-for-integrity-and-progress/572020522/
https://www.adfontesmedia.com/minnesota-star-tribune-bias-and-reliability/
https://www.startribune.com/trump-itis-a-media-plague/565008282/
https://www.startribune.com/star-tribune-film-critic-resigns-after-ethics-breach/502410192/
https://www.mprnews.org/amp/story/2007/04/17/strib
https://apnews.com/article/immigration-north-america-minnesota-elections-marriage-cc2ccd70de56405098d2f259bf0e46c5
https://www.startribune.com/acosta-has-no-constitutional-right-to-be-a-grandstanding-jerk/500609191/
https://www.tampabay.com/nation-world/politifact-did-ilhan-omar-marry-her-brother-the-minneapolis-star-tribune-investigated-and-heres-what-they-found-20190719/
https://www.startribune.com/editorial-board-endorsement-biden-can-reunite-restart-america/572694582/