Mediabuzz is an organization that intends to conduct a fair media bias and factual reporting analysis on various reputed news media outlets of the United States of America. By doing so, this non-partisan organization aims to provide more transparent and reliable insights about popular newspapers and news channels of the US.
In this article of our Media Bias and Fact Check series, we have analyzed Los Angeles Times' biasedness and factual reporting on the basis of reliable parameters like usage of language in enws reporting, election candidate endorsements, blind surveys, readership analysis, etc. We have also referred to some reliable and renowned fact-checking organizations to get a balanced view of LA Times' factual reporting.
Los Angeles Times Media Bias Analysis
Media Bias Result: Left Center
LA Times is considered as Left Leaning (Left-Center) news outlet with frequent bias demonstrated towards Left or Liberal issues. It has also endorsed Democrat candidate in Presidential Election Race in the country and has often spotted using adjectives to influence readers towards Left.
Los Angeles Times Factual Reporting Analysis
Factual Reporting Result: Highly Reliable
Los Angeles Times or LA Times, despite the bias, is termed as one of the most reliable news media outlets in the United States of America. There has been no evidence of factual fallacies in the editorial articles of the media, however, certain amount of factually incorrect information is spotted in its Op-Ed section.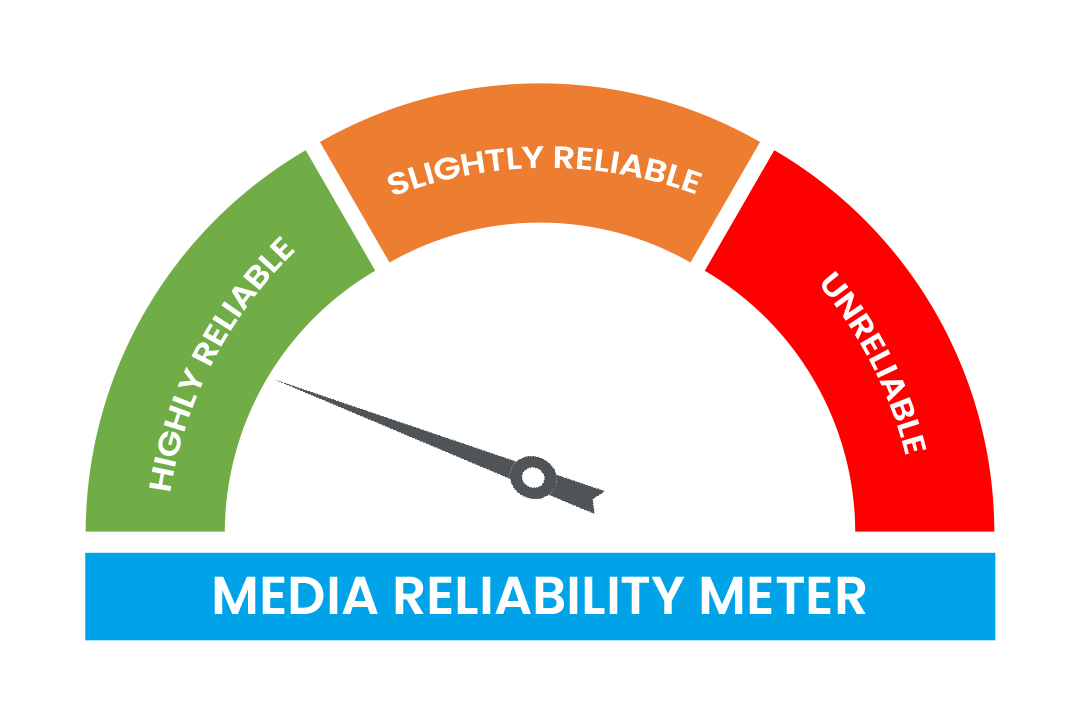 A. Los Angeles Times Media Bias Analysis
In this section of the article Los Angeles Times Media Bias and Factual Reporting Analysis, we have provided an in-depth analysis of LA Times' biasedness towards left or right on the grounds of various parameters as given below.
1.  LA Times Headlines and Content Analysis
Though seldom, but LA Times has its instances where it used emotionally loaded headlines directly pulling up the Republican leaders or government. In one such headline, it wrote, "Outgoing White House Chief of Staff John F. Kelly Defends His Rocky Tenure" coyly taking a dig at John F. Kelly who served as the White House Chief of Staff for former US President Donald Trump.
In another Op-Ed, LA Times wrote, "Engaging with the world doesn't make Americans Suckers". The languages used in the articles suggestively favour Left. In one of its editorial, it quoted, "Congress needs to focus not only on how amateurishly Trump executes foreign policy but the clear shortcomings of the policy itself" firing criticism at Trump.
In another editorial dating back to January 2021, LA Times wrote in its headline, "Our Disastrous President" describing Trump's Presidency as a disastrous era in the history of the United States. However, LA Times has managed to slightly balance its leanings from being far too left to Centre, by publishing frequent Op-Ed moderately favouring the Republicans. Therefore, the newspaper is termed to be Left-Center in its leanings.
2.  Endorsement of Presidential Candidate
Los Angeles Times has frequently endorsed Democratic Presidential Candidates. In the last three elections it has favoured the Democratic candidate. During the 2016 Presidential Election Race, it even mentioned in one of its pieces, "Hillary Clinton would make a sober, smart and pragmatic president. Donald Trump would be a catastrophe."
In 2020 Presidential Election in the United States, LA Times endorsed Democratic candidate and the now POTUS, Joe Biden. While announcing their support, the Editorial Board also mentioned that they are not supporting Biden just because they will support 'Anything but Trump' but they also deem Joe Biden to be the perfect President for these polarizing times.
3.  LA Times Criticizes Former President and Republican Donald Trump
In one of its Op-Ed, LA Times' Editorial Board blamed Former President Donald Trump for his own Covid-19 diagnosis. The scathing piece of writing called Trump reckless for not practicing Covid appropriate behaviour and often terming the pandemic as a 'hoax'. The daily also blamed the former POTUS for putting the stability of the country at stake while putting his own family at risk.
In another incident, LA Times Owner Patrick Soon-Shiong told CNBC that he was prepared to support even his media rivals amid fierce criticism from President Donald Trump. This statement came in response to a controversial Op-Ed published in New York Times by an anonymous White House official saying that an internal resistance is working to thwart the US President.
4. Fox News Journalist Criticizes LA Times for Likening Trump Supporters with Nazis & Hezbollah Sympathizers
Known for its unbiased reporting, LA Times drew flak for its Op-Ed penned by Virginia Heffernan that compared Trump supporters with Nazi and Hezbollah sympathizers. In the article, Heffernan likened her neighbours with controversial labels for supporting Donald Trump. The article was later criticized by Megyn Kelly, a Fox News Journalist for calling her helping neighbours Nazis and Hezbollah sympathizers. The article drew backlash online by many people.
5. LA Times Media Bias Reports
Apart from the language, graphic and tone used by the newspaper, we can tell a lot about their bias going by the media bias reports published by some leading universities and research organizations. Read below to know more about what media bias reports have to say about LA Times biasedness.
I. Towards Data Science's Report
A website titled Towards Data Science published an article-cum-report called Who is the Least Biased News Source? Simplifying the News Bias Chart. In the article, the website has listed several US-based news media into listicles like Which news sources should we be reading? and Who are the 10 most biased news sources? LA Times finds a place for itself in the listicle called Which News Sources Should We Be Reading ranked at #11.
II. A Measure of Media Bias by Tim Groseclose and Jeff Milyo
According to a report published by Tim Groseclose and Jeff Milyo, Los Angeles Times is quite liberal in its leaning. The report wrote LA Times among the likes of New York Times in terms of its bias towards the Left. The inference is based upon the number of times a conservative or liberal think tank is cited in their articles. On the slant scale, LA Times scored 70.0 which suggests the left bias.
III. Fair and Balanced? Quantifying Media Bias through Crowdsourced Content Analysis
A report published by Ceren Budak, Sharad Goel and Justin M. Rao has ranked Los Angeles Times among the Left-Leaning media outlets in the United States among the likes of Huffington Post, New York Times, and Daily Kos.
IV. Press Bias and Politics: How the Media Frame Controversial Issues by Jim A. Kupyers
In a book published by Jim A. Kupyers, 116 mainstream newspapers of the United States of America including LA Times was analyzed for bias. It was found that mainstream print media in America demonstrates narrow range of liberal beliefs. It also accused mainstream media of publishing opinions based on the liberal issues like welfare reform, environmental protection, gun control, etc. were injected into mainstream news coverage.
6.  LA Times Readers: Democrats or Republicans?
The readers of LA Times have witnessed a huge decline in the past few years. An increase in price is touted one of the reasons for this declining trajectory of readership. As far as the type of readers are concerned, there is not enough data to determine that.
7. LA Times Controversies
In October 2020, veteran journalist and executive editor of LA Times, Norman Pearlstine stepped down from his post following a string of controversies. During his time, the daily faced a number of challenges including pay cuts, reduced digital subscriptions and furloughs.
Amid the Black Lives Matter protests in the United States, The Los Angeles Times published an article that addressed lack of diversity in its own newsroom. It also alleged LA Times of disparity of pay between white staff members and those of colour.
I. Verdict
LA Times is dubbed as Lean Left (Left Center) by most of the media monitorship websites. Most of the times its Centred in its news publications, but there are instances where the daily directly spoke in the favour of Democrats or the Left. The language usage in its reporting aggressively favoured left however, these occurrences are isolated to few incidents. Therefore, its inclination remains Lean Left or Left Center until further research is conducted.
B. Los Angeles Times Factual Reporting Analysis
Under this section, we have carefully analyzed LA Times to check whether the publication has faltered in terms of providing factually correct information to its readers. Read further to know about the factual accuracy of LA Times.
1. LA Times Op-Ed pins Covid-19 on Animal Agriculture
During the Covid-19 pandemic, LA Times published an article under its Op-Ed section written by Viveca Morris, Executive Director of the Law, Ethics, & Animals Program (LEAP) at Yale Law School. In the article, she blamed the Covid-19 pandemic on animal agriculture. A website called Protect The Harvest dismissed the claims made by Morris under a fact-check article published by them. Another popular media publication USA Today also dismissed the claim as it wasn't backed by substantial scientific research.
I. Verdict
Despite several instances of media bias, LA Times is highly reliable news media in terms of factual accuracy. There have been little or no evidence of factual fallacies on the editorial side. Therefore, LA Times is deemed as a highly factual news media in the United States of America.
C. LA Times Media Bias & Reliability Ratings by Fact-Checking Organizations
Under this section of the article, we have collated the media bias and reliability ratings assigned to LA Times by different fact-checking organizations. Read below to know how Los Angeles Times scores as per the fact-checks performed by renowned organizations.
1. Mediabiasfactcheck
The renowned fact-checking organization Media Bias Fact Check has labeled Left-Center in its inclination for moderately using emotionally loaded and influential words in its content. For the factual reporting, LA Times remains highly reliable as the organization didn't find any failed fact checks.
2.  Ad Fontes Media
Ad Fontes Media rates LA Times in the Left-Centre category of bias, as same as Media Bias Fact Check. The leading daily scored -6.93 for bias which indicated Left Bias in its reporting. For the factual reliability, the score is 46.30 which remains high despite the Liberal bias.
3. AllSides
AllSides rates LA Times Lean Left on the basis as per the users rating survey conducted in May 2017. Further data is lacking on the fact-checking organization's website pending user surveys and research.
| | | |
| --- | --- | --- |
| Fact-Checking Organization Name | Reliability Rating | Biasedness Rating |
| Ad Fontes Media | 46.30/64 | -6.93 (Left-Center) |
| Mediabiasfactcheck | Highly Factual | Left-Center |
| AllSides | N/A | Lean Left |
D. History of LA Times
LA Times of Los Angeles Times is a renowned English newspaper of the United States of America.It was founded by Nathan Cole Jr. and Thomas Gardiner in 1881 and headquartered in El Segundo, California. As per the circulation, it is the fifth largest in the US.
LA Times was later acquired by Harrison Gray and in 1885, it was co-led by Harrison Gray Otis and Harry Chandler after the latter became former's son-in-law. During the Chandler-Otis era, the daily displayed anti-union notins, which led to the 1910 bombing of LA Times building leading to 21 casualties.
In 1944, Norman Chandler stepped into the shoes of his father Harry Chandler to lead the daily and in 1960, Norman's son Otis Chandler became the publisher and owner of LA Times. It is said that Otis Chandler truly transformed the newspaper from a conservative publication to a least biased daily. Under his ownership, LA Times won first of its 44 Pulitzer Prizes.
In June 2000, Tribune Co. (owner of Chicago Tribune) acquired Times Mirror Co. (Parent company of LA Times), thereby ending the 100 years of Otis and Chandler era. In 2018, billionaire Patrick Soon-Shiong acquired LA Times for $500m from the Tribune Co. As of now, Kevin Merida is the editor of LA Times.
Ownership
LA Times is owned by biotech billionaire Patrick Soon-Shiong, who is also the President of the company. The newspaper is published under the ownership of Los Angeles Times Communication LLC (Nant Capital)
Conclusion: Is LA Times of Liberal or Conservative?
According to our analysis and the ratings given by renowned and reliable fact-checking & media bias organizations, LA Times is a Lean Left news media with slight inclination towards Democrat (or Liberal) issues. The publication demonstrated bias towards Left in its reporting patterns and language used in news articles.
In terms of factual accuracy, LA Times is highly reliable in the United States and is often dubbed as one of the most trustworthy news outlets in the country.